January 16, 2015
Oh, hell, I'll just post the screenshot of the email: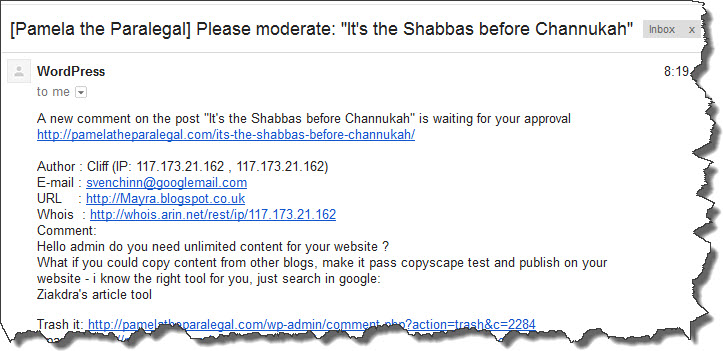 Just in case you don't see it – the sender is offering me a resource that will allow me to COPY CONTENT TO PUBLISH ON MY BLOG AND PASS THE COPYSCAPE TEST.
That's right! They are offering ME the opportunity to do unto to others what was done to me.
In light of the 'Great Copyright Wars' (ah yes, the saga continues)  – the email spawned several visceral responses:
uproarious, hysterical, nay, maniacal laughter;
the urge to bang my head repeatedly on my desk;
the requisite 'are you f*cking kidding me?' email to my nearest and dearest;
the desire to go a'hunting; and
this blog post.
Editor's Note: I didn't approve the submission.
bwahahahahaha
Leave a comment
---
January 2, 2015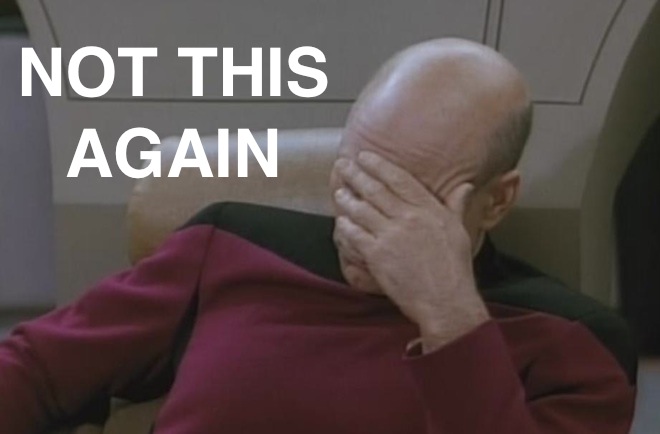 The business line just rang – I answered. The conversation went like this:
StarrParalegals, how may I help you?
Yes, hi, this is [unintelligible name]. I'm on your website. You're a paralegal and you do bankruptcy. Right?
Are you an attorney?
(at this point, we start talking over each other)
Yeah, ok, no, but I need to . . .
We only provide services to attorneys.
Yeah, ok, I know you're not an attorney. So how much is it to file my bankruptcy?
Ma'am, we do not work with the public.
Yeah, ok, but how much to file . . .
You're on our website, right? It is stated quite clearly on every page of our website that WE ONLY WORK WITH ATTORNEYS. I cannot help you.
Yeah, ok, but . . .
I cannot help you.
CLICK!
Leave a comment
---
December 31, 2014
My wish for you in the coming year -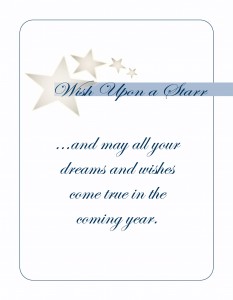 Leave a comment
---
December 22, 2014
A couple weeks back, I posted about content theft by, at least, two virtual service vendors – It's Not Flattery, It's Plagiarism! (Georgia Peach Virtual Paralegal Services) and It's Still Stealing – Another Copyright Violation (Flawless Petitions, LLC). Ultimately, I discovered a third offender, Inquest Resources.
I emailed the owners of all three companies, respectfully requesting that they remove my content from all profiles and marketing materials.
Flawless responded: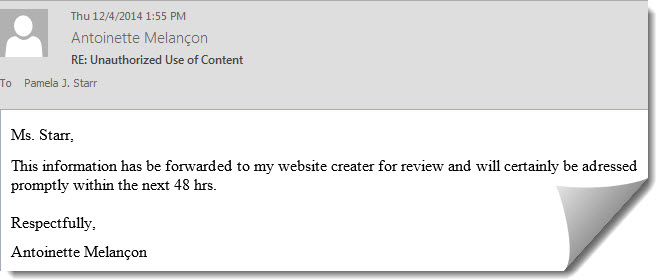 (I had to share the email – y'all wouldn't have believed me if I'd cut and pasted such flawless content.)
Subsequently, she removed the content. Well, she made an attempt to remove it. She has removed all but the first line of my mission statement from her website and LinkedIn profile, but failed to remove other content.
Inquest responded – click here for the entire exchange.
To date, I have not heard from Georgia Peach.
I took the only logical next steps – I filed reports with LinkedIn, Facebook, and eLance (Ms. Peach). I'm still waiting to hear back from eLance.
LinkedIn has removed the brochure, that contained my content, from Ms. Peach's LI profile and has confirmed the removal of all but the first line of my mission statement from Flawless' profile (although, she is still using the CBA designation without authorization). Facebook has removed/blocked Georgia Peach's business page and has removed my content from Flawless' page.
They really shouldn't mess with a redhead from the GSOT … #justsayin.
Leave a comment
---
December 15, 2014
(updated December 30, 2014)
I did some more digging last week and I found a third content poacher!!
This one is a paralegal in Texas who claims to be – a member of the Texas State Bar Paralegal Division and CAPA. (Note: when this was originally posted, the poacher also claimed to be a member of NFPA.) Yes, I reported her to all three entities.

To her credit (and with an obvious dose of sarcasm), the offender pulled the content.  I'm pretty sure, Ms. Inquest felt compelled to remove my language, and advise me of such, because NFPA contacted her about her lapsed membership and told her to remove the reference. (Have I mentioned I'm on the Ethics Board?) Her email reads like the response of one caught with her hand in the proverbial cookie jar:
Contrary to your claim, Inquest Resources did not copy content from your website. After receiving your email, I reviewed your website and was only able to find a single instance where language you have used is substantially similar to language used on the Inquest Resources website. While that language is somewhat similar, the visual presentation and the context in which it is used are very different. Moreover, there is nothing particularly distinctive about the language itself. Instead, these are fairly generic descriptions of the knowledge/experience/dedication Inquest Resources brings to its work and clients. Accordingly, your accusations of plagiarism and copyright infringement are unfounded. [emphasis added]

While Inquest Resources categorically rejects your accusations, Inquest Resources has made alterations to language on its website (as well as Inquest personnel's individual LinkedIn profiles) as a courtesy.
First the language is "substantially similar"; then it's "somewhat similar" (because we moved it around a little and substituted the name of our company; yeah, uh huh, right); and finally, the claim that there is "nothing particularly distinctive about the language  . . ."  If that were the case, she wouldn't have pulled it. For that matter, a simple Google search of the poached content wouldn't appear as mine for the first 2 or so pages of results, and Facebook & LinkedIn wouldn't have removed similar content from the other offender's pages and profiles.
Contrary to Ms. Inquests protests, there is nothing generic about the content and, according to Plagiarism 101 (citing the Merriam-Webster Online Dictionary), to plagiarize means:

On another note, it's bad form to claim adherence to the Code of Ethics and Professional Responsibility when poaching content from another paralegal.

1 Comment
---
December 12, 2014
… it's also my father's yarzheit (anniversary of death). For many, the holiday season is bittersweet. My father (Z"L) will forever be linked to this time of year. I last saw him alive on Thanksgiving Day 1982 and he was gone on December 8, 1982/ Kislev 22 – 3 days before Channukah.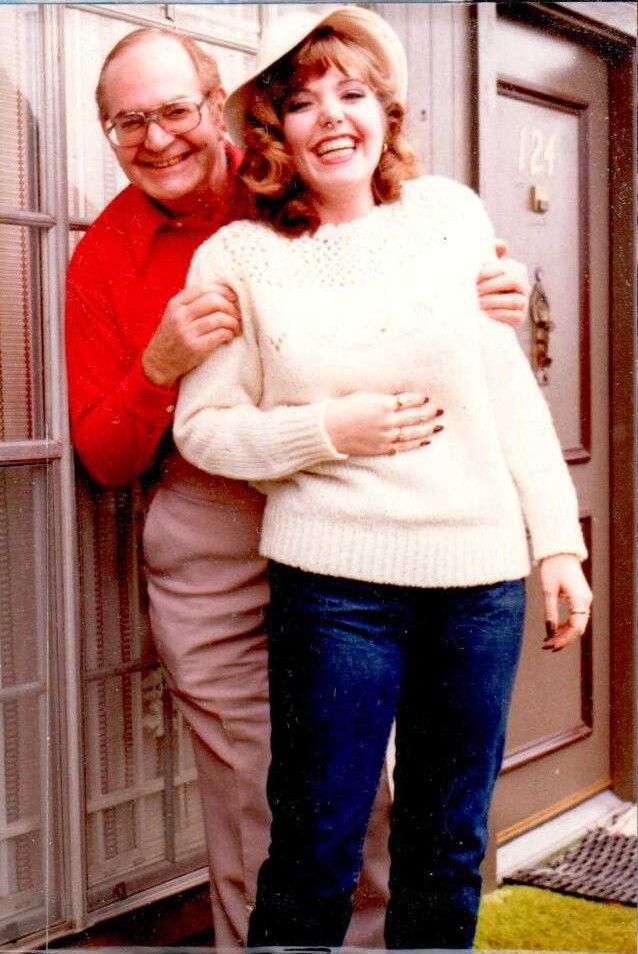 You'd think the pain of missing him would have diminished over the years. In many ways it has. Yet the candles somehow don't burn quite as brightly with his light gone from this life. Tonight, before I kindle my Shabbas candles, I will light a memorial candle to honor and recall the miracle of his life.
They say Shabbas lights have a distinct and special purpose – to remind us of the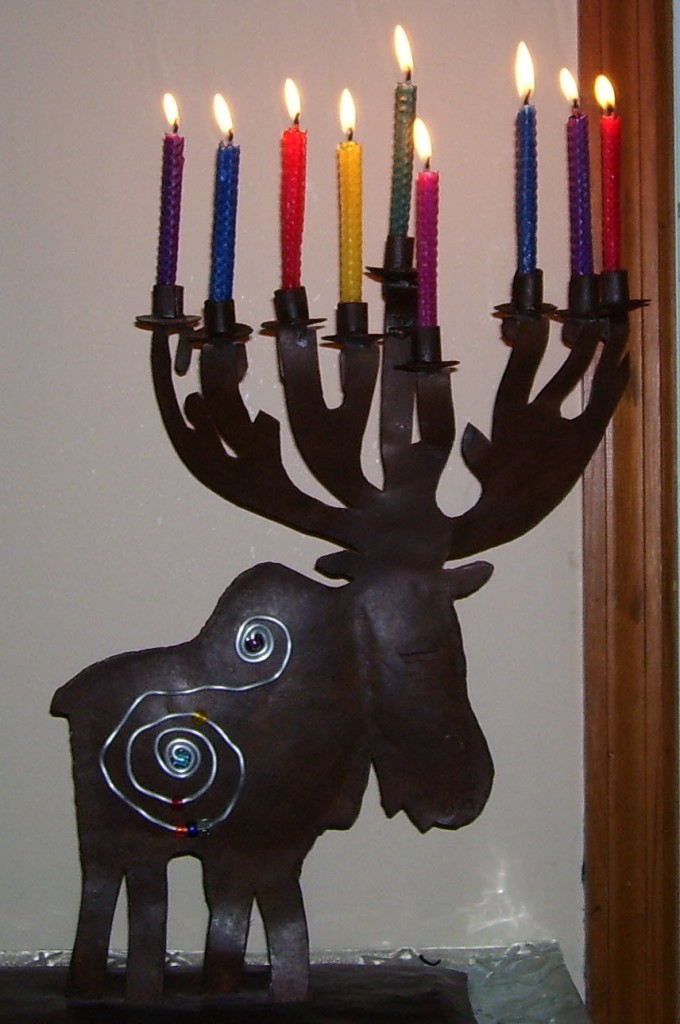 smaller, quieter miracles that take place in our homes every day, while Channukah is about celebrating a magnificent miracle. Whether it's a moment of peace or the joy of family, take a moment to pause and reflect upon these 'light' miracles when you light your Shabbas candles week. And, on Tuesday evening, when we light our Channukiot, we can reflect on the greater miracles in our lives.
I will add a candle every night, for eight nights, until my Channukiah burns brightly, and celebrate the miracle of my life and the lives of those around me.
Shabbat Shalom and Chag Chanukah Sameach!
Leave a comment
---
December 4, 2014
I am gobsmacked.
I am NOT flattered. In fact, I'm angry.
A non-paralegal is using my mission statement AND calling herself a CBA to market her virtual bankruptcy assistant business.
To quote @MianneBesser: "That's pretty unbelievable and downright unethical.  Definitely one of those things that makes you wonder what these people are thinking."
I know from experience that it is hard to come up with the right words to describe your business; however, it can be done WITHOUT ripping off someone else's work. When I was developing my website, I went to a lot of other virtual service providers' websites for ideas. I somehow managed to write unique content that reflected my personality.
Not only is she using:
Our services appeal to attorneys that are operating in a downsizing market, while trying to decrease their overhead, and increase the value of their billable dollar.
She has the chutzpah to use my mission statement on her LinkedIn profile:

She, quite literally, cut and pasted that content from MY LinkedIn profile. Content that I have been using on MY website and profile since I conceived StarrParalegals in JULY 2008.
AND … she's using the designation "CBA" without authorization.
Certified Bankruptcy Assistants (CBA) Program was developed, and is administered by, the Association of Bankruptcy Judicial Assistants (ABJA); a national organization formed by judicial assistants/secretaries to United States Bankruptcy Judges. The program is supported by the National Conference of Bankruptcy Judges (NCBJ) and the American Bankruptcy Institute (ABI).
One becomes a CBA by taking a certification exam that covers the U.S. Bankruptcy Code, Legal Research, Grammar/Usage/Writing (I keep telling you this stuff is important!), and Ethics.
I took that exam in 2006 and earned the right to use CBA in my signature line. I do not take kindly to others using the designation without the appropriate authority. I paid my dues – figuratively and literally. If she wants to be a CBA, then she can take the the exam.
7 Comments
---
December 2, 2014
Imitation my be flattering to some, but when it comes to written content, it is straightforward plagiarism.
Every so often, I run plagiarism checks against the content at StarrParalegals, LLC. I am amazed by the so-called professionals who think it's okay to acquire my content and use it as their own.
Don't they understand that reorganizing the sentences, changing the name of the company, and adding a few services does not absolve them of plagiarism and copyright violations?
Seriously, these are paralegals!! Did they miss the ethics component of their training??
This is what I found today:
Georgia Peach Virtual Paralegal Services is dedicated to providing its attorney clients an extensive knowledge of FAMILY LAW, PERSONAL INJURY, ESTATE PLANNING, PROBATE AND COLLECTIONS.

By offering professional paralegal services virtually, we increase the value of our clients' billable dollars. As independent contractors; we complete the job more efficiently and economically.

OUR Mission is to provide results that surpass expectations through our dedication to our clients.

Our services appeal to attorneys that are operating as a solo practitioner or operating in a downsizing market while trying to decrease their overhead and maintain, or increase, the value of their billable dollars. We provide highly experienced, paralegal services on a transactional basis, thereby avoiding the costs and expenses associated with full time employees.
For comparison, this is the content from my website – content I have used since 2008:
STARRParalegals is a virtual paralegal service dedicated to providing its attorney clients an extensive knowledge of Bankruptcy & Creditors' Rights practice (petition preparation, litigation, adversary proceedings and preference actions), including a comprehensive understanding of the intricacies (or perhaps annoyances) of the CM/ECF system, as well as a proficiency in UCC (review, analysis and recording), and commercial transactions.

Our services appeal to attorneys that are operating in a downsizing market while trying to decrease their overhead and maintain, or increase, the value of their billable dollars. STARRParalegals provides highly experienced, certified paralegals on a transactional basis, thereby avoiding the costs and expenses associated with full time employees.

By offering professional paralegal services virtually, we increase the value of our clients' billable dollars. As independent contractors, we complete the job more efficiently and economically.

Our mission is to provide results that surpass expectations through our dedication to our clients by …
It doesn't take a rocket scientist to see the blatantly obvious.
The content, in part, appears on her Facebook page and Elance profile, and has been committed to a PDF brochure (GeorgiaPeachFlyer)  – I assume this is because her website has been frozen. Perhaps her web host caught the plagiarized content and took down her website.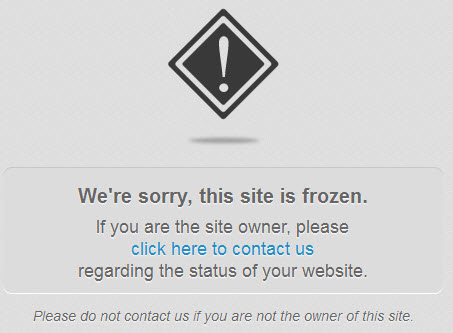 I have sent the offender a 'friendly' email requesting that she take down and stop using my content as if it were hers.
We'll see what happens.
1 Comment
---
December 1, 2014
It's December 1st, it must be the roll out date for the new bankruptcy forms.
Yes folks, it's time to update your form files. TODAY is the day.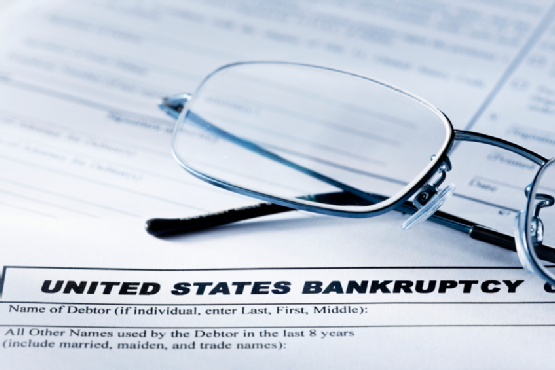 Effective December 1, 2014, the following forms need to be substituted into your bankruptcy petition packet:
Revised Means Test Forms
Just in case your petition software provider hasn't pushed the update yet, save yourself the headache and keep links to the revised forms handy. Trust me, there are few things as upsetting as receiving a deficiency notice from the clerk with a 72 hour deadline to file the correct forms.
Leave a comment
---
November 10, 2014
In my experience, an invoice, bill, or statement will state, unequivocally, the total amount due. One merely looks for the words "Balance Due" or "Total Due".
Once that amount is paid, the balance due should be ZERO. Right?
Well, apparently only in some circles …
I recently went online to pay the balance due on my cruise reservation.
I logged and navigated to the payment screen.

I verified that the initial deposit had been credited and looked for those magic words … balance due.

I found them, chose the "Pay in Full" option, pulled out my brand new, rewards miles credit card, and submitted the payment.
According to the confirmation screen, payment in full had indeed been received – no balance due.
Let me repeat … Z E R O due.
Account Paid In Full.
I waited patiently for the email confirmation to follow. When it hadn't, I called the 'group specialist' to request a copy.The confirmation arrived and, much to my surprise, the statement indicated there was an outstanding balance of $50.
I went back over all my paperwork and called the group specialist for clarification …
OOF!! We went 'round & 'round. Me insisting that balance due has a definitive meaning; she, insisting that there was a "but for…" consideration. Yes, I could see that there was a remaining balance due, I simply wanted someone to 'splain me why that amount WASN'T INCLUDED IN THE ACTUAL BALANCE DUE.
I asked to speak the her supervisor. A message was left. I missed the return call, called back, and left another message. Several days pass and I receive an email from the supervisor claiming that she had been trying to call me for days, but couldn't get through/ there was no answer / there was no voice mail option.
S E R I O U S L Y ??
I freaking work from home!!!
Lemme 'splain you … I so rarely leave my house anymore* that my average, monthly gasoline bill is less than $50!! The possibility that I missed a call to my landline is, well, virtually nil!
I respond by email, verify my phone number, and offer times that I know I will be available for a call. She confirms a date and time … no call. In the meantime, I had AT&T check the line.
The supervisor finally calls – I pick up and we talk.
It would have been far more productive for me to repeatedly beat my head against a brick wall.
We go back on forth on the same issue …
Balance due means the amount owed to pay off the account.
"Well, yes, 'except for…'"
Um, NO! It's the remaining amount owed.
"Except for…"
There is no 'except for…'! Yes, I see that there is still a balance due. What I want explained is why that amount wasn't included in the BALANCE DUE when I logged on to make my payment.
"But there is a balance due. I'll send you another copy of the confirmation showing the balance due"
I have that confirmation – that's why we're having this conversation.
"Well then, you can see there is a balance due…"
Dear Lord, get me off this ride!!
That went on for 30 minutes. Ultimately, I received a $50 on-board credit. I'm still waiting for someone to explain how balance due is not the balance due …
Bueller??
* Yes, I know. It's bad habit born of working from home. As wonderful as computers, mobile devices, and cellphones may be – they are the work of the devil. It is far too easy to sit in front of/hold a device and do what needs doin', all while life passes on by just outside the walls.
Leave a comment
---
November 7, 2014
We've all been there -
sent an email, but forgot the attachment
allowed 'autocomplete' to choose the wrong recipient
used 'Reply All' for no good reason
forgot to use spellcheck
However, this is a prime example of 'what NOT to do' when composing and sending email: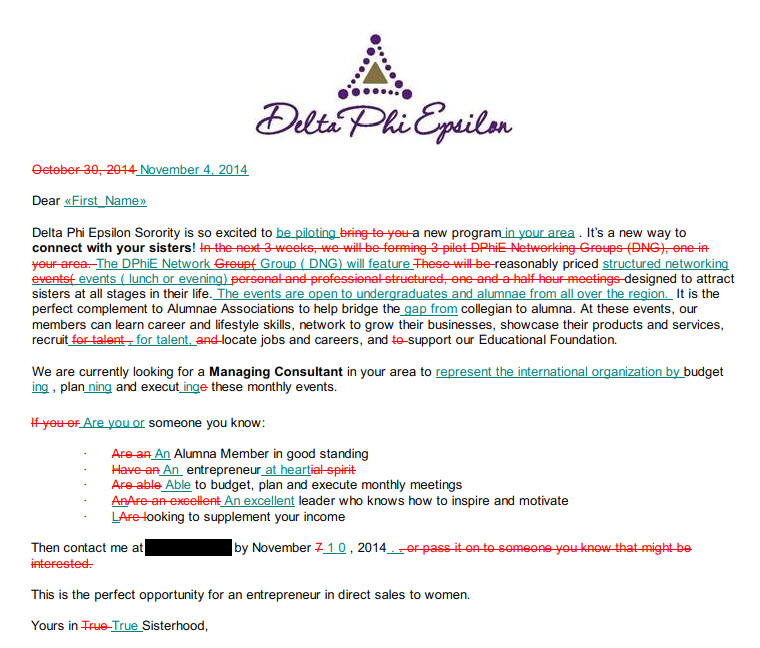 There is no reason E V E R to:
use track changes in an email, or
send a mass email before activating merge fields.
I'm mortified for the author and embarrassed for my sorority.  I won't even mention the grammatical errors I've spotted …
<sigh>
In spite of it all, I'd actually consider applying for a position.
Sororally yours …
Pamela J.  Starr
University of Texas – Chi Chapter
Leave a comment
---
November 5, 2014
Friends,
On this day after Election Day, I come to you to ask for your votes.
No, not for an elected position!
Perish the thought!!
My company, StarrParalegals, LLC, is a contestant in the 2014 StarpUpNation Home Based 100 and I want your votes.
If you've ever read this blog, followed me on Facebook, LinkedIn, or Twitter, you know that I'm passionate about being a paralegal and the owner of a home-based business. But don't just take my word … read what one of my life-long friends posted to Facebook: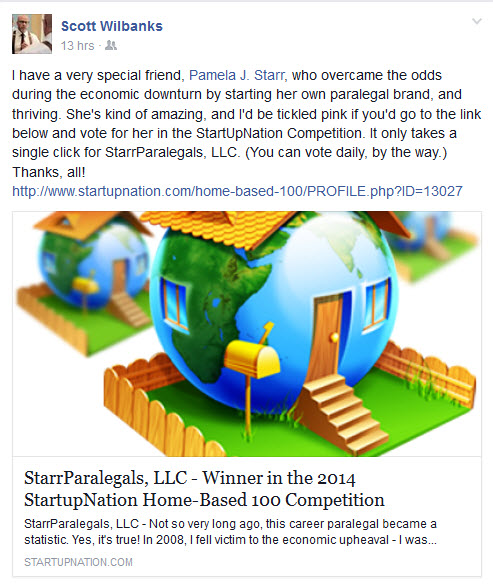 I know, you're asking yourselves, "Why should I vote?"
Your votes validate my choice to work virtually and will help me to grow my business. More credibility for me leads to more credibility for our industry.
The competition ranks the best performing home-based businesses across America in ten categories. One winner will be selected from each category to be featured as the Top Ten. Ninety other contestants will be ranked by top votes and judging. I was fortunate enough to be among the top 100 in the 2012 contest.
There isn't a prize package for the winners – just the opportunity to add an emblem like this one to our websites: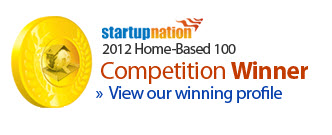 Participating in the contest, and, yes, winning, shows the world that my home-based business is both serious and relevant. It provides a window into the growing opportunities that exist, not only for paralegals, but also for anyone affected by the loss of job opportunities or looking to supplement their income.
Rich Sloan, co-founder of StartupNation.com, has said, "Home based businesses are the biggest block of all businesses in existence and we expect numbers to grow ever greater as extra bedrooms, kitchen tables, basements and garages increasingly host the innovative thinking and pursuit of success by millions of Americans."
Help me share my vision and my passion -
Vote for StarrParalegals today, and every day, until the voting closes on December 15th. Here's the link:
http://www.startupnation.com/home-based-100/PROFILE.php?ID=13027
(I'm not sure why the link defaults to say 'winner', but hey, I'll take it!)
Vote early!  Vote often!
Tell your friends – share the link.
I'm Pamela J. Starr and I approve this message.
Thank you.
Leave a comment
---