February 10, 2014
File under "You can never be too careful."
I found the following email in my SPAM folder this morning: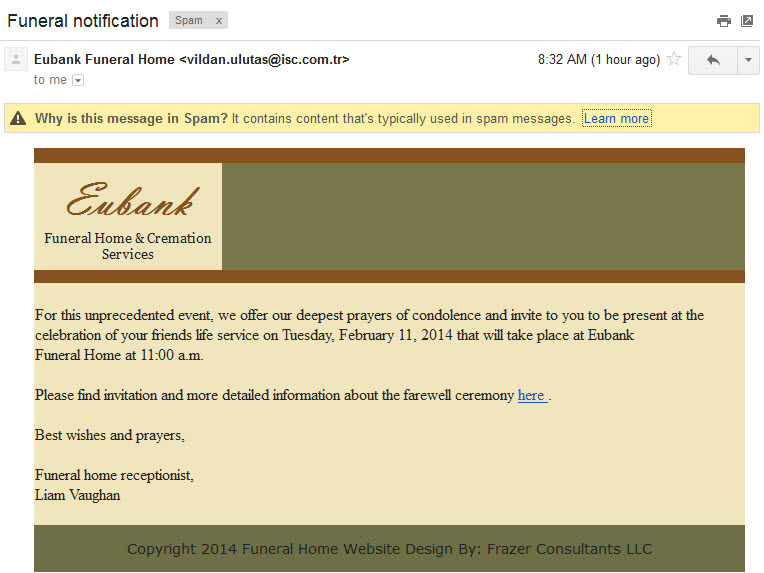 Gotta love Gmail for recognizing the scam; although I'm not sure I would consider a funeral notification to contain "content that's typically used in spam messages."
Even if the email had appeared in my inbox, it would have been suspect for several reasons (in no particular order):
The notice neglects to name the deceased.
Death is hardly an "unprecedented event".
The entire message is horribly written and <Ugh!> "friends life" should be written in the possessive: "friend's life".
The return email addy <

vildan.ulutas@isc.com.tr> 

is a Turkish email IP.

The message contains no printed contact information – phone number, physical address, website.
The embedded link … well, you get the picture -
Before I even hovered over the link to read the URL (Do I need to remind you that you should NEVER click on a URL until you have verified its authenticity???), I Googled 'Eubank Funeral Homes'. They are a legitimate operation based in my home state of Texas. I clicked on their website to find this notice: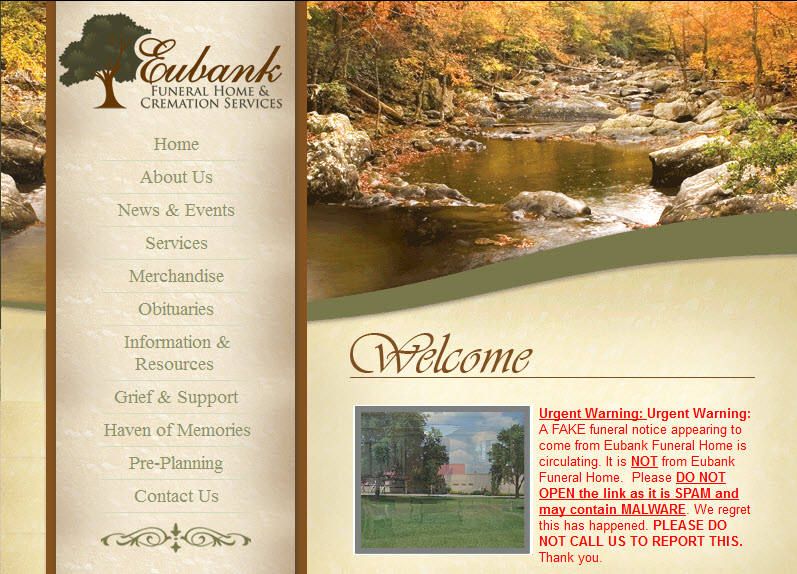 What sort of sick, twisted, miscreant comes up with the idea to prey on our sympathies like this?
Leave a comment
---
February 6, 2014
Have you been waiting to sign up for a Costco membership?
I know, for some it seems silly to pay for the privilege of shopping at a store – after all, your membership fee subsidizes the discounts you receive. Then again, there is a reasonable ROI ('return on investment' – ooh! look, I'm using language from my current class at RU!)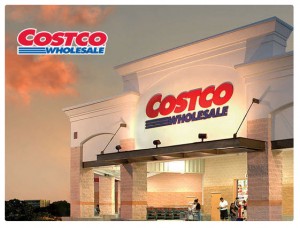 Here's the deal, use this link to purchase a voucher at LivingSocial for a 1 year Gold Star Membership for $55 ($104.47 value). You'll also receive a $20 Costco Cash Card AND a pack of bonus coupons ($29.47 value) good for:
* a free Kirkland Signature™ 48-pack of AA batteries,
* a free rotisserie chicken,
* a free Kirkland Signature™ case of water,
* $4 off Kirkland Signature™ coffee, and
* $4 off Kirkland Signature™ albacore tuna.
PROMO ENDS February 8, 2014
PAID VALUE EXPIRES ON February 6, 2019
PROMOTIONAL VALUE EXPIRES ON May 10, 2014
Here's the link again: http://ow.ly/tlM8L
(FYI: the link takes you to LivingSocial for Beaumont TX, but voucher is good anywhere)
the fine print
This offer is valid for NEW members only
Limit 1 Membership per customer, up to 3 additional Memberships as a gift
Limit 1 Costco Cash Card per customer/household
Entire value of Voucher must be used in a single visit
To qualify for this special offer you must purchase the Costco Membership Activation Certificate through this promotion.
Offer may not be combined with any other offer or coupon
Costco Membership Activation Certificate will be emailed to you immediately after completing your purchase and redeeming your Voucher online
To activate Costco membership you must bring the printed Costco Membership Activation Certificate email or your printed confirmation page to your local Costco location
The Costco Cash Card will be provided after presenting the Costco Membership Activation Certificate and completion of the Costco membership application for a Costco Gold Star Membership
Coupons will be mailed to the address provided by Purchaser within 15 days after redeeming Voucher online.
Costco Cash Card and Coupons are considered "Promotional Value"
Purchaser must redeem Voucher by May 10, 2014, to receive the Cash Card and Coupons in addition to the applicable Membership purchased
Purchaser must claim the Costco Cash Card and use Coupons by July 31, 2014
A Costco membership is $55 a year; Each membership includes a free household card
Costco accepts cash, checks, debit/ATM cards, EBT, Costco Cash Cards, Costco Credit Cards and American Express
Leave a comment
---
February 3, 2014
There, I've said it.
It does not require a 12-step program, nor do I need a sponsor. Although <wait for it!> perhaps the offenders might need a program or sponsor or mentor …
How do you know if you're a grammar nerd? Well, the folks at Grammarly shared this quick assessment: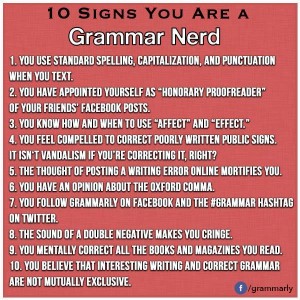 To quote George Takei, "Oh, Myyy!"
I'm ALL 10. In fact, I posted this as a Facebook status in July 2013: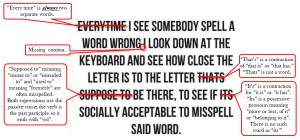 I'm sure some of you are scratching your heads, wondering what the fuss is all about. Lemme 'splain [why yes, I DID do that on purpose!] …
This is more than the usual misuse of there/their/they're, to/two/too, weather/whether, and so many more … it's an anti-grammar epidemic of stellar proportions!!
My job as a paralegal is to act as the second set of eyes for all documents that leave my attorneys' desks. There are few things as frustrating or upsetting – professionally speaking – as
seeing that your client's name, any party name, (oof!) the judge's name, or even your attorney's name is misspelled on a filed/recorded document;
realizing that a misplaced or forgotten comma has changed the intent of a document; or
noticing a missed zero, comma or other key factor in a financial document;
and the list goes on.
Sure, it's their signature on the document; but we all know what flows downhill …
Of course, there's the other side of the discussion: shoddy writing and language skills reflect poorly on you. Now, I'm not saying we all have to have Masters degrees (have I mentioned that I'm working on my 2nd one?), but I believe that in order to be taken seriously by peers, colleagues, prospective employers, educators … heck, anyone with a clue … it is imperative to use good grammar (and spelling, punctuation, capitalization, etc.) at all times.
If you follow this blog or my Facebook / Twitter posts, you know I cannot abide laziness in writing – specifically when it comes in the form of a cover letter or introduction asking me to consider the author for a job or as a submission for a grade from a classmate in my grad program. Look, I'm not talking about the errant typo – it happens to all of us. I'm referring to correspondence and documents riddled with mistakes that make me weep.
The following excerpt is from a final paper submitted for peer review by a classmate in my MATD program:

Unacceptable!!! This is graduate school – real-freaking-life here. People need to take more pride in what and how they write.
End.of.discussion.
I am a Grammar Nerd and damn proud of it!!
Leave a comment
---
January 30, 2014
I'm still trying to wrap my head around this Craigslist ad under CL >new york >queens >all jobs >legal/paralegal jobs: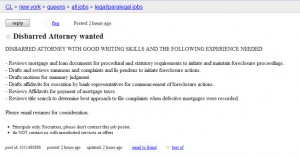 In my head, I hear the voice of Inigo Montoya:
"You keep using that word. I do not think it means what you think it means."
Back in October 2011, I wrote about an employer seeking "JD Paralegals" – "Qualified applicants will have to have at least a JD."
Seriously people, I know the public thinks poorly of our industry, but at what point did we, as legal professionals, sink so low as to blur the lines of ethics and common sense??
FTR, the order of disbarment in New York states:
Ordered that pursuant to Judiciary Law § 90, effective immediately__________ is commanded to desist and refrain from (1) practicing law in any form, either as principal or as agent, clerk, or employee of another …
One attorney commented that he sees no problem with a disbarred attorney working as a (hold on to your seat for this one) paralegal. After all, 'if the work will be will be supervised by an attorney in good standing, what could be the harm?'
Well sir, several state bars actually have rules that prevent disbarred attorneys from acting as paralegals. And, the National Federation of Paralegals (NFPA) has issued its own opinion:
http://www.paralegals.org/associations/2270/files/Ethics_Opinion_05_02_disbarred_attorneys.pdf
It's one thing to have a disbarred attorney APPLY for a job, it is outrageous to advertise for one. I worked long and hard to become a damn good, respected, paralegal – I don't want my industry sullied by the assumption that it's OK to replace me or my peers with a disbarred attorney.
If an employer wants to take the chance and hire a disbarred attorney, fine – let them; but seriously, why would anyone EVER advertise for one?
What do y'all think?
3 Comments
---
January 24, 2014
Reprinted with permission from The Paralegal Society: www.theparalegalsociety.wordpress.com
***************   ROYAL DECREE   *****************
Hear ye, hear ye, the Words of the Throne.
The Unanimous Declaration of our Fearless Founder, the TPS Counsel, and Countless Legal Staffers all Across the World.
It has become necessary for all pleasant, ambitious legal lords and ladies around the world to separate and distinguish themselves from those law firm staffers known as the "Dark Clouds" a/k/a Keepers of the Misery – those peasants cleverly disguised under the guise of legal employees, committing acts of sheer treachery in the legal kingdom. From this day forward, strict penalties shall be imposed against evil doers for any act of sheer stupidity, laziness, rudeness or other unconscionable acts, including but not limited to, acts perpetrated under the cloak of utter and absolute stupidity, ignorance, glutton, carelessness, classlessness, cluelessness or greed.
Those found in violation of the laws of the land shall be punished by a fine, hereinafter referred to within the four corners of the legal kingdom as "The Dummy Tax" or by a padded-room-imprisonment, a duct taped mouth, a swift kick in the derriere, poisoning, flogging or death, dependent entirely upon the breadth and depth of the village idiot's stupidity, while moonlighting as an employee among those working tirelessly within the gauntlet to serve the royal fleet of esteemed esquires, as duly sworn upon their oath.
Hear our proclamation that from this day forward, the following acts shall be considered treason. Anyone caught committing any of these unconscionable acts (and a long list of unwritten, unspoken, unbelievable others) shall be assessed a "Dummy Tax" commensurate with the level of idiocy that has occurred.
The Acts of Social Treason Are As Follows:
The Thief – one who steals the lunch of another from the fridge, unbeknownst to the owner and leaves him or her high and dry, without a crumb of bread to eat or a drop of Diet Coke to quench her weary thirst. This category shall also include one who covertly steals the stapler, staple remover, scissors or pens of another, without ever returning said items to the rightful owner.
The Fraud – one who takes credit for the work of another for work which he did NOT actually perform. Never has. Never will.
The Complainer – one who opens his mouth to spew verbal complaints about another person to other villagers on an endless, tireless basis to avoid the assumption of personal ownership over one's own duties, faults, and person, within the gates of glory. Regularly. (And painfully, the queen might add).
The Boisterous Messenger – one who elicits dialogue far too often or far too loudly within the presence of another coworker, and never stops eliciting words (on, and on, and on) even after losing the interest of the listener, which often occurs upon first sight.
The Jester – one who spends countless hours surfing the net, walking and talking among the village's workers or speaking to his own inner circle of people via telephone, rather than performing his actual work duties in accordance with the laws of the land.
The Blamer – one who feels inclined to endlessly blame others for any, every, and all of the shortcomings he may (and does) possess. Nothing is ever the blamer's fault. Never. Ever. Ever. Not only is he never getting back together with Taylor Swift, people – but he is never, ever, ever accepting responsibility.
The Know It All – one who knows more about you than you do. And more about him and her, too. This person's mouth is constantly moving, engaging in every conversation, but no one is listening - at least not intentionally, anyway. How we all ever survived prior to meeting this individual, he does not know.
 The General – one who enters the room or dwelling of another, and upon observing the person to be on a call (which may clearly NEVER end), stands in the room staring at the lord or lady, often with a stoic, annoyingly-attention-seeking, soul-sucking stare for an extended period of time, as though said "General" is commanding or willing the worker off of the phone and to her immediate attention. It is worth noting "The General" is not an esquire. Or a manager. Or a boss. (Or anyone who should EVER stand within 3 feet of an annoyed person who is within an arm's reach of scissors or a sharp letter opener).
The Busy Proclaimer – one who may never do any substantive work, but incessantly tells all others about how much work he has to do, how it will never all be done, and how very, very terribly busy he is – although he may never be observed in an office actually doing work at anytime, as this planet continues to spin on its axis.  Too busy proclaiming to be busy = a full-time job, indeed.
The Bender – one who attempts to bend every law in the land to suit his personal needs, schedule, preference, or agenda. Frequently not one who is a top contributor, but one with a sense of personal entitlement to all things, of all things, about all things, for all things, at all times. (Please send that duct tape now.)
The Absentee – one who misses work on a regular basis, putting his burdensome workload upon the backs of others working alongside him in the land of legal. If you need her, don't call her, she won't be there.
The Pretender – one who refuses to admit he does not know something, so he pretends he does, covers things up, or wings it, which may or may not result in the beheading of himself, a fellow staffer or an esquire, in addition to the payment of The Dummy Tax, imprisonment, being duct taped to a chair, or death.
The Interrupter – one who barges into the private space of another (often during an important meeting, telephone call or one's lunch break), without due cause, because everything he needs is the most pressing matter of vital business, even if it is simply to ask if there is any more papyrus for the village scribe or to utter the words, "Are you busy?" or "Do you not want to be bothered?" (Hence, THE CLOSED DOOR IN YOUR FACE). Laser beam death stares are plentiful in his presence.
The Slasher – one who pretends to like other lords and ladies around him, only to turn around and stab them in the backside, often ripping out the blade, and stabbing again.
The Quarreler – one who enters every room with the intention to bicker or quarrel with every human being in his immediate presence. Often one who will ask a question of another pretending to seek input, clearly just to disagree with anything and everything, anyone else says. Always. Also known to speak loudly, disrupting others from a mile off. (Send those ear plugs STAT, people.)
The Moocher  – one who enters the land each day without nary an ink pen, a notepad, a diet coke or a dollar bill to his name, then expects the other lords and ladies of the land to charitably provide these items to him, never to return the favor. Often, not accompanied by a genuine or proper thank you.
Cinderella or Cinderfella – one who constantly concerns herself with assessments regarding what is (OR IS NOT) fair about every single situation, circumstance, rule, perk, punishment, consequence or person - anything and everything, yes, all things, at every waking moment of life. No glass slipper. No friends. No invitation to the ball. It's NOT FAIR!!!
The Dark Cloud – one who is a "Keeper of the Misery" in any legal circle, anywhere, as proclaimed by any normal, productive, happy soul who is stuck (oh so stuck – like a fly on bug tape), working alongside one who should be immediately declared the Omnipotent Ruler of the Damned. (Because we are…the damned. We work with you).
The Schmoozer – one who inserts himself among the esquires, decision makers or other royal personnel, with the sole intent of befriending them, so he may then attempt to perform any of the aforementioned acts of scandalous treason, without ever having to pay a Dummy Tax, facing imprisonment, the likes of a duct-taped mouth, or being pelted to death with binder clips by an angry mob of villagers following an intentional act of treason.
Be advised that the Lords and Ladies of the land have had enough. All petty, witless, gutless, soulless, acts of treason and treachery shall no longer be accepted by those dwelling within the gates of the TPS Kingdom, heretofore on this day, written on our hearts, and in our minds, and on this blog page - forever more.  
Ruling Regent by the Hand of her Majesty,
The Fearless Founder 
Under Sign, Seal, Cloak & Dagger
As issued this 24th day of the new moon, in the year of our lord, Two Thousand and Fourteen marketh the time, as signed in accordance with the laws of the land.
That is all.
_____
At least we certainly wish it was, don't we?
[Insert paralegals slamming heads down on desks here]
[Repeatedly]
Carry on, Lords and Ladies. Carry on.
And please feel free to issue that "Dummy Tax" as you deem fit.
1 Comment
---