December 31, 2012
My wish for EVERYONE – family, friends, clients, classmates  – near and far: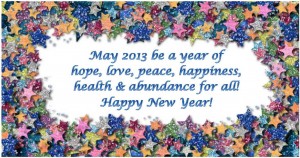 Comments Off

on Happy 2013!
---
December 5, 2012
It's the first week of December – I've sent out my November invoices, mom is on her way to town to visit me for the first couple of nights of Chanukah, and it's the final week of the semester. <wipes brow>
I knew there was a lot that I didn't know about e-training and learning technologies, so I enrolled in the TRDV program. Granted, in my day job, I'm a virtual paralegal (go ahead; I know someone is just dying to make a joke about holodecks or whether or not I really exist …), so I understand a lot of tech jargon; but face it, there is an entire industry devoted to e-learning and learning technologies.
And every industry has its vocabulary and acronyms to learn and interpret … and software. Oy, the software!
So, what have I learned about learning technologies? Well, for one, now that I've almost completed TRDV450, I know I want to take the class again (well, I'd like to audit it) just to catch everything I know I missed the first time. (more…)
Comments Off

on So Much to Learn and Process –
---