July 7, 2016
I was happily composing a response to a client when, flicker … flip.
That's right, FLIP!
My laptop display reappeared upside-down and backward, as if it had entered a da Vinci twilight zone.
Coffee … check.

Ground below, sky above … check
Don't Panic!!
I hadn't, to my knowledge, encountered a wormhole or stepped through a looking glass. And, no, the laptop shouldn't have a rotating display. It's a basic, 6 lb., sits on my desk, no touchscreen, laptop.
I picked up my netbook, turned it on, – breathed a huge sigh of relief when it opened in normal, landscape orientation – and Googled, 'WTF? My laptop display is upside-down!'
Alrighty then. According to the brain trusts at several fora, including HP and Microsoft, it's a simple fix: Ctrl + Alt + up arrow.
Easier said than done! Have you ever tried to drive your mouse or use a touchpad in a carnival fun house? It was all catawampus!
I figured since I'm already left-handed and dyslexic, it would be easy(ish) to do. I failed to figure in that, although I write with my left hand, I use a mouse like a 'normal' right-handed person.
My poor, addled brain couldn't quite master the inversion-conversion required to mouse upside-down and backward.
No worries; I've got this.
I picked up and flipped the laptop. Now the keyboard was upright and facing me and the display was on the desk.
Ctrl + Alt + up arrow. Flicker. Fixed.
NOT!
I was back in da Vinci land as soon as I clicked the mouse.
Back to the netbook. Oh, look, there's a whole series of 'thanks for nothing; it flipped back' posts.
Well, isn't that special?!?!
New fix:
Control Panel

Display Resolution

Landscape (not flipped)

Uncheck 'Auto Rotate'

Apply

Pray
So far, so good. Still, it would be nice to know WTH happened in the first place!
And back to work I happily plod.
Comments Off

on Computer Twilight Zone
---
July 5, 2016
Reality check …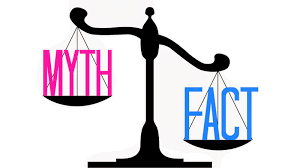 Even if there were ANY truth to the recurring rumors (that's right myths, BS, blatant nonsense) about Facebook  'going public' or 'charging for access', or my all time favorite, that social media users have some right to protection under UCC-anything, do you honestly believe Facebook would be monitoring your pages for posts in which you attempt to invoke rights that you signed away as soon as you created your Facebook account???
Want to know more? Read my posts from November 2012:
Buy a clue people!!!
Comments Off

on Not Everything Your Read on Facebook is True
---
July 3, 2016
In mid-June, I purchased a dishwasher and range from #SearsOutlet.com and a washer/dryer from #Sears.com.
It's July 3rd and I've been in HELL for 3 days.
Apparently, there is no one stateside to handle ANY issues to do with #SearsOutlet.com, and far too few offshore call center people willing to release control of calls to US reps on the #Sears.com side.
Let's start with #SearsOutlet.com … BEFORE committing to the purchase, I called customer disservice at 1-800-KillMeNow, TWICE about installation & haul away. In BOTH calls – placed on different days – I was ASSURED installation & haul away were included.
Yes, I verified that I was speaking with #SearsOutlet.com and asked whether delivery (and the, now confirmed, installation/haul away) charges were per item or location. I was told that if both items came from the same store, the fee would be split.
Thrilled with that bit of news – and no need to hire a contractor to uninstall/remove/haul away/install my dishwasher and range – I completed my purchase. According to the confirmation email, the delivery fee had been split (ergo, same store).
Two days later, I received the delivery scheduling call. The initial delivery date – more than a week away – conflicted with my schedule. I asked why so far out and was told the location only delivered on Fridays. Frustrated, I took a date another week out (July 1, 2016) and juggled my appointments.
I received a robocall the night before with the 2-hour window (8:00 am – 10:00 am). Well, the window closed with nary a peep. I had no recourse but to call 1-800-KillMeNow. It took over TWO hours of numerous transfers and interminable holds to connect with someone with a modicum of a clue. One reason for so many transfers was that the agents kept insisting I'd purchased only ONE item and it 'was scheduled to be delivered' that day. Dishwasher AND range EQUAL TWO ITEMS!!!
The customer disservice agent transferred me to the store manager. I was left on hold for 45 minutes during which I tried reaching the store directly from my cell phone. Despite the horrendous phone issues at the store, the store manager was incredibly patient and helpful. She confirmed "my" range was in the store (yes, marked sold to me) but that no delivery had ever been scheduled AND she had NO RECORD of my dishwasher!!
I pulled up the confirmation email and gave her the order/sales check numbers … nope, nothing! I emailed her my copy. Again, nothing. Oh, and HER store only delivers on Saturdays!! I admitted my confusion because I'd been told the store only delivers on Fridays!
She contacted her delivery driver and arranged for my range to be delivered Saturday. In the meantime, she checked her stock, found 'my' dishwasher, and offered, if my actual order could not be found, to send it along. She kept digging and I kept fuming – I'd now given almost 4 hours of my life to this crap.
While I waited to hear back, I received a call from a driver 'with my delivery'. What delivery? 'Your dishwasher, ma'am.' I asked if they were coming from the Marietta store (because, I'd ordered BOTH items from the Marietta location), they said no.
Curiouser & curioser!
A few minutes later the store manager called back – she'd turned over every stone she could find and came up empty. I told her about the call and we laughed in disbelief. She asked me to call after delivery to confirm I'd received the dishwasher.
They arrived with the dishwasher and summarily dumped it, box and all, in the middle of my kitchen floor.
WHOA!  What about installation & takeaway??
Oh, no um, we just deliver. UGH!! That's not what I signed up for!!! Frustrated, I checked the box … it was the WRONG dishwasher! They sent stainless; I ordered white! I refused delivery and sent them on their merry way.
I emailed the store manager while calling the KillMeNow number to resolve (it is to laugh) the installation & takeaway issue and make sure I didn't get charged twice for a dishwasher.
Another TWO hours shot to hell!
Customer disservice lived up to its reputation … a lot of doublespeak punctuated by "Okay!" – to the extent that it made my teeth hurt – including a transfer (finally) to a US-based agent who told me to 'be concise because [he] didn't have time for long stories' and subsequently hung up on me when I responded, out of justifiable frustration, 'Well, aren't you special."
Meanwhile, the store manager called me back and I could hear her shaking her head disbelief. We decided it would be best to accept delivery from her store and ask the delivery folk if they'd complete the installation. As a courtesy, she said she'd include the parts for installation.
During the entirety of that call, I was on hold with the brain trust at KillMeNow.
I finally got to a mostly helpful agent and described the tsuris of the day, including the installation problem. She was appalled that I'd been so thoroughly misinformed, offered me a 'for your trouble' credit, and transferred me (again, hold-hell) to the #SearsOutlet.com delivery & installation people. They quoted me the (oh, so reasonable <sarcasm>) price of $379.99 for installation and takeaway … almost HALF the cost of my purchase!!
Thank you, no!
Seriously, why would I voluntarily put myself in this hell when I could have easily avoided the additional cost and loss of brain cells with a few calls to friends and a local contractor??
They delivered the dishwasher and range – they installed the range, but my dishwasher is still boxed up in my garage. I contend that #Sears should send someone over – at their cost, NOT mine – to install the dishwasher and remove the old one.
But wait!! There's more!
I reviewed the confirmation emails for my #Sears.com purchases and discovered a glaring discrepancy that could very well lead to a class action against #Sears!
On the same day as the #SearsOutlet.com purchases. I purchased (in two separate transactions) a washer and dryer. Several coupons, discounts, and free shipping/installation applied to each purchase with the option for haul away at $25/item.
Problem?
The numbers on the confirmation email send by #Sears don't add up. I did the math independently for each purchase and it would appear that I was charged for delivery. Naturally, I called #Sears credit to dispute the discrepancy and was transferred to a 'manager' at #Sears.com in NOT the USA!!
I have just spent another TWO hours being told that I am incapable of reading a cost breakdown and that they will happily send me a 'corrected' confirmation IN THEIR FAVOR.
Here is the breakdown for the washer … you do the math!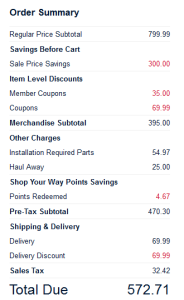 By my calculations, BASED ON INFORMATION GENERATED BY #SEARS, I have been overcharged by $69.99. The same math and overcharge applies to the dryer.
Mind you, these numbers come directly from the confirmation email. The so-called supervisor at customer disservice spent TWO hours trying to convince me that the email I have in my pretty little hands is wrong …
Are you kidding me??
There are so many things wrong with the treatment I've received by what #Sears considers to be customer care. I've been misinformed at several levels, wasted valuable time, killed off needed brain cells, and been overcharged as a result of creative accounting.
Comments Off

on #Sears Customer Disservice
---