October 24, 2012
This stuff really happens …
Phone rings, I answer in my professional voice, "This is Pamela Starr, how may I help you?"
Caller: 'Is this the paralegals services [sic]?'
Me: 'Yes'
Caller: 'Are you the paralegals [sic] or can I talk to a paralegal can might help me …'
Me: 'Ma'am, are you an attorney?'
Caller: 'Huh? Uh, no. I need to talk to a paralegal to find out if you all can help me with my case -'
Me: 'Ma'am, we ONLY work with attorneys. Paralegals are very limited as to the services they can provide without attorney supervision.'
Caller: 'Oh, okay then. I guess I just have to call me an attorney and find out if he has a paralegal who can help me …' <click>
Um, yeah, okay …
I can only imagine the call to the attorney:
'Is this the attorney's office? No, I don't want to pay no dang attorney fees. Jes lemme speak to the paralegal!'
Right, cos that's how the system works …
Comments Off

on And so goes my day –
---
October 9, 2012
If you have been following my academic exploits, you know that I had not even crossed the stage to collect my first Master's degree when I started classes in the Master of Arts in Training & Development at Roosevelt University.
This semester I'm taking TRDV450-Learning Technologies: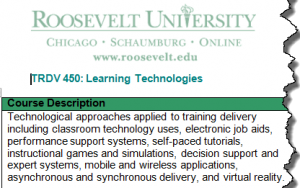 Oy veysmir, that's a mouthful! Basically, it is an overview of all things tech and learning. (more…)
1 Comment
---
October 2, 2012
<rant on>
I just got off a call from a very frustrated gentleman who needed help with a 'ticket on appeal'. I tried very gently to explain to him that a) I'm a paralegal and don't work with the general public; b) I only work with attorneys; and c) I don't do traffic cases and even if I did, I only work with attorneys.
I asked him how he got my name and he said he was referred by 'Mike'. Um, okay, Mike who? "Uh, I don't know. He just told me to call you … it's on appeal"
Again, I explain that I can't help him and I apologize that this Mike person has wasted his time. Again I ask who made the referral – maybe the name of the firm or phone number so I can talk to Mike and figure out why he thinks so highly of my services that he is sending clients that I cannot possibly help. (more…)
1 Comment
---