September 27, 2016
I can't believe September is almost over. Where has the time gone? School has started, the leaves are changing color, and Rosh Hashanah, the Jewish New Year, is barely a week away.
To honor our commitment to Torah and our clients, we are providing our holiday schedule.  In addition to our regularly scheduled Shabbas shutdowns, StarrParalegals will be closed (we go completely 'dark') the following dates/times in observance of the High Holy Day season: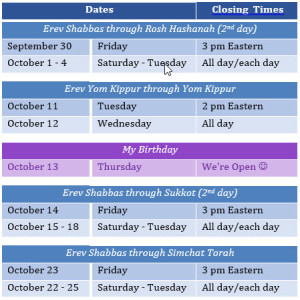 To offset our holiday closings, we will work outside our normally scheduled hours (within reason) to complete your assignments – keep sending those projects! We're still in the business of making your jobs easier.
Help us help you – take a moment to review your calendar for any impending deadlines between now and the end of October. Please send us your to-do list so we can modify our schedule.
Please note: Our holiday observances, including Shabbas, begin just before sundown the evening before ("erev") the calendar date and end after sundown on their final day. This year, most of the holidays 'come in' on Sunday evenings. Therefore, we made the decision to remain closed for the hours between the end of Shabbas and the beginning of the holiday (Sundays). If you require our services on any of those Sundays, please let us know soonest. Our normal weekend rates will apply.
Thank you for your understanding and patience. As always, we appreciate you and your business.
Shana tova u'metuka! May you have a sweet and prosperous new year!
Pamela
Pamela J. Starr, CBA, J.S.M., MATD
CEO & Paralegal Extraordinaire 
StarrParalegals, LLC
Virtual Paralegal Experts in all things Bankruptcy & more
Office: 404.317.0129 
[email protected]  |  www.StarrParalegals.com
www.SessionsWithaStarr.com | www.PamelaTheParalegal.com
     NFPA Ethics Board Chair / NFPA – The Leader of the Paralegal Profession®
——————————————————————————————————————————
NOTICE: STARRParalegals is NOT a law firm; our practice is limited to working with licensed attorneys.
——————————————————————————————————————————
Comments Off

on StarrParalegals' October Schedule
---
September 27, 2016
It's that time of year … time to reflect, repent, forgive, and rejoice.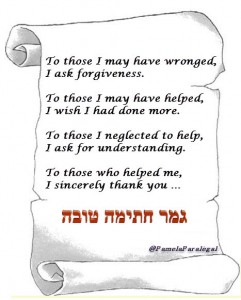 In these days before the High Holy Days, I ask your forgiveness and understanding and I pray that the coming year is one of peace, prosperity, health, and joy.
As I look back at 5775 (2015) and the past year, 5776, I am humbled by the kindness and generosity of strangers and friends – near and far – throughout the ordeals now known as the Memorial Day and Tax Day Floods (Houston). I am grateful that my mother is healthy. back in her home, teaching, traveling, and doing all the things than make her happy. B"H
I count my family (yes, that includes Sulu & Uhura 😉 ), friends, colleagues, and clients among my blessings. May you all be blessed.
G'mar chatima tova.
Omayn, v'omayn.
Comments Off

on As 5776 Draws to a Close
---