May 28, 2015
Yesterday I posted about a 'quick question' email I'd received. Several folks suggested responses, others just shook their heads knowingly.
This is what I did . . .
I took a deep breath and let it out, shrugged my shoulders and told my snark to take a break. Then I wrote back:
Technically, there are no quick questions. The answer could be short; the response, quick. The question, not so much.

I will infer from your question that you are neither a paralegal, nor an attorney. If you were, you'd know the answer.

My business is based in Georgia and therefore, I am prohibited by the state bar/state law from working with the public. Even if I weren't, it is my choice, and prerogative, to work only with attorneys.

I hope that answers your question.
(My snark didn't listen very well)
He responded:
Well actually I think of it the opposite but you definitely have a valid point.

Questions via email are never quick and they are unfair to the recipient.

Think about it, the reason we all hate email is it's a time suck because some knuckle-head like me can fire off a two second email that takes you 10 minutes to craft a response to. Used to be you would spent just as much time on a phone call as me so the time sink was equal. The person who figures out how to rebalance the time equation will make a billion dollars!

Anyway sorry for the lame question and rambling response. Totally makes sense now that you mention it. I'm in the market for a paralegal to help with our corp docs. I can't spend 350 an hour which is what my attorney wants to charge. [emphasis added]

I shall keep hunting!

The old 'I don't want to pay a lawyer for services, so I'll see if I can find someone to do it for less. I know. I'll hire a paralegal.' rationalization.
Forget snark . . . I'm angry. <insert Hulk / redhead references here>
It took several deep breaths before I could pen my response –
I understand your frustration, however, preparing corporate documents is considered practicing law. Paralegals are never permitted to practice law. It's built into the name. Attorneys go to law school and pass the bar for the privilege of practicing law. Paralegals train to support attorneys. Therefore, we can prepare corporate documents under the supervision of an attorney.

There are some states that allow independent paralegals to offer limited services to the public – without attorney supervision. Preparing corporate documents falls outside the scope of permitted services.

If you find someone claiming to be a paralegal who can and will provide that service, be warned, that person is acting outside the scope of what is allowed. It is both illegal and an ethics violation. A properly trained and ethical paralegal would avoid being placed in a position that would cost them their professional reputation and livelihood.
'Nuf said!
Comments Off

on "Quick Question" – Asked and Answered
---
May 28, 2015
Many of you know I'm originally from Texas – born and reared in Houston. My extended family and friends are there and my mother lives in the house my grandparents bought 50 years ago. Houston is, and always will be, home.
In the wee hours of the morning on May 26th, my mother's house started to flood. By 7 am, the water was ankle deep throughout the house and higher in the garage.
B"H – my mother is safe and well. The house is a disaster. Crews have already come through to remove all the flooring and carpet and they've taken off the lower 2 feet of drywall in every room.
For now, she is staying with a friend. It will be weeks, if not months, before the house is livable. As of today, the area has not been declared a federal disaster area. Until FEMA or other aid becomes available, this will be a financial burden for her.
I'm headed back home on Monday, June 1st and will stay as long as I'm needed to ease the emotional burden.
As always, I will travel with my 'office' and I will make myself available to complete projects. Because I will be working from a satellite location, I ask that you alert me to projects by calling or texting. The number can be found at www.StarrParalegals.com
Comments Off

on StarrParalegals is Relocating – Temporarily
---
May 28, 2015
I've lived though my share of hurricanes in Houston. I've seen high water and the damage it brings. Through it all, my family has been lucky – the worst we've ever experienced is a stalled car or waiting it out on high ground.
Until now –
Mom started emailing me Tuesday, May 26 around 3 am CDT. No, I don't know why she didn't call me. I guess she didn't want to worry me.
What? Me worry?
Well, that's exactly what happened when I opened my email – my coffee grew cold as I tried to interpret the picture from Mom's front porch.
What you shou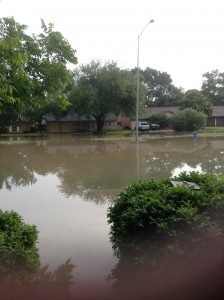 ld see is a curved driveway, Mom's front yard, and a four lane boulevard separated by a median.
What you see are the holly bushes that border the front porch. The water at the holly is about a foot deep – the water in the house, ankle deep.
I've never seen this much water on Mom's street. In the 50 years my family has lived in that house (it was my grandparent's house), the water never made it inside.
Heck, it never made it to the porch.
Sure, the backyard would flood – Mom's seasonal olympic pool – still the water was contained. You could stand under the awning and the porch would be 'above the water line'.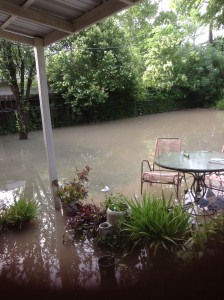 Tuesday morning, it became Lake Novak.
It breaks my heart to see the house like this.
Yes, I'm being selfish.
It's my home.
My mother.
My family.
My friends.
The stores where we shop, the shul where we worship, 'our' JCC, the schools where mom teaches . . .
I know, it could have been so much worse. I grieve for those who lost loved ones or whose homes were completely destroyed.
Does Mom need help? I'm sure she will.
For now we'll accept emotional support. When I get to Houston next week, we'll probably need all hands on deck to sort through the stuff.
Others need your help too.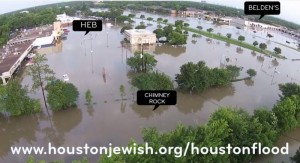 The Jewish Federation of Greater Houston, in partnership with Jewish Family Service, is mobilizing a community response to provide aid and support for people devastated by the May 26 flood. We are here to help individuals, families and our Jewish institutions, which sustained substantial damage.
Funds are needed for basic services and to help people repair their homes. Crisis counseling is also essential.  There are three ways you can help:
Able to give? Donate at www.houstonjewish.org/houstonflood
Able to provide physical labor (no training necessary)? Email

[email protected]

Able to give gift cards for $50, $100, $200 or $500 good at groceries, pharmacies, big box stores like Target, Walmart, Lowes or Home Depot? Please drop them off at Jewish Family Service at 4131 S. Braeswood Blvd., Houston, TX 77025. M-Th, 8:30 a.m.-5:30 p.m., F, 8:30 a.m.-4 p.m.
If you are in need of help, email [email protected].
1 Comment
---
May 27, 2015
This is a first – An email arrives with the subject "quick question":
Hi,

Why do you only provide your services to attorneys?

Best,

James
'Quick question'? Really? 
There is no such thing as a 'quick question'. It's a question – plain and simple. The answer could be short; the response, quick. The question, not so much. Sure, it only took a moment to write out the question. Maybe that was the quick part. 
My gut instinct is to engage the individual.
Who are you and why do you ask?
Hmm, maybe not the best response.
So I Google the email address. Maybe he's a paralegal looking to work virtually; or someone who wants to know more about becoming a paralegal; or, he's a plant for the bar association …
Seriously though, would it kill people to set up a simple signature block?? <It's not that hard folks!>
I find him on LinkedIn. We're not connected, but he's connected to several people I trust and respect (and a couple I'm not so sure about). Nothing is his profile explains why he would be connected to so many legal industry people. Really, there is no common denominator.
<le sigh>
So, how should I respond?
Because!

That's the way I choose to do business.

I prefer the company of lawyers.

State law prohibits me from providing paralegal services to the public.

You couldn't afford me.
Can you tell that my snark is in overdrive?
I'm pondering my options . . .
2 Comments
---
May 20, 2015
Like many of my colleagues, I spend way too much time sitting on my ever widening tuchas. It doesn't help that I'm slightly older than 36 either . . .
I should also mention that I'm, ever so slightly, set in my ways. I have my routine: I get up, get dressed, walk down a flight of stairs, get coffee, take care of the cats, and then walk down another flight of stairs to my office. I sit at my desk for hours – I get so hyper-focused that I forget to eat (not that you can tell from looking at me <le sigh>). The only time I really move is when my eyes start watering (see: hyper-focused) and I get up to walk upstairs to the 'ladies' room' and right back down the stairs to my desk.
Once my work day ends*, I schlep upstairs for dinner and plotz on my couch. I isn't glamorous and, frankly, it's a bit embarrassing to admit that in print.
I know. How hard is it to just get out and walk for 30 or 45 minutes? Or, to use the mini-stair stepper that stares me down every night while I do my couch potato impression?
Harder than you'd think.
Well, enough!! It's way past time to get fit! And, I'm going to do it.
My BBF (Best Business Buddy), Amie Hoff has created the FitKit – a self-contained, lightweight, anytime, anywhere fitness solution with all the tools needed for a total body workout.

Amie's made it stupid easy to get and stay fit at home, at work, on the road…anywhere. [cue commercial] She's got all the bases covered:
Strength Training & Cardio

Resistance Tube with Handles

Flat Resistance Band

Door Attachment

Jump Rope

250+ exercises on exercise cards

Access to a full online exercise library

Nutrition, fitness and safety tips to maximize performance
The FitKit even includes an ID tag and reflective arm band for when I venture outside to exercise.
Seriously, it's time to take back my life and health.
Wanna join me?
*for the self-employed, that never actually happens
Comments Off

on It's Way Past Time to Get Fit!
---