November 10, 2014
In my experience, an invoice, bill, or statement will state, unequivocally, the total amount due. One merely looks for the words "Balance Due" or "Total Due".
Once that amount is paid, the balance due should be ZERO. Right?
Well, apparently only in some circles …
I recently went online to pay the balance due on my cruise reservation.
I logged and navigated to the payment screen.

I verified that the initial deposit had been credited and looked for those magic words … balance due.

I found them, chose the "Pay in Full" option, pulled out my brand new, rewards miles credit card, and submitted the payment.
According to the confirmation screen, payment in full had indeed been received – no balance due.
Let me repeat … Z E R O due.
Account Paid In Full.
I waited patiently for the email confirmation to follow. When it hadn't, I called the 'group specialist' to request a copy.The confirmation arrived and, much to my surprise, the statement indicated there was an outstanding balance of $50.
I went back over all my paperwork and called the group specialist for clarification …
OOF!! We went 'round & 'round. Me insisting that balance due has a definitive meaning; she, insisting that there was a "but for…" consideration. Yes, I could see that there was a remaining balance due, I simply wanted someone to 'splain me why that amount WASN'T INCLUDED IN THE ACTUAL BALANCE DUE.
I asked to speak the her supervisor. A message was left. I missed the return call, called back, and left another message. Several days pass and I receive an email from the supervisor claiming that she had been trying to call me for days, but couldn't get through/ there was no answer / there was no voice mail option.
S E R I O U S L Y ??
I freaking work from home!!!
Lemme 'splain you … I so rarely leave my house anymore* that my average, monthly gasoline bill is less than $50!! The possibility that I missed a call to my landline is, well, virtually nil!
I respond by email, verify my phone number, and offer times that I know I will be available for a call. She confirms a date and time … no call. In the meantime, I had AT&T check the line.
The supervisor finally calls – I pick up and we talk.
It would have been far more productive for me to repeatedly beat my head against a brick wall.
We go back on forth on the same issue …
Balance due means the amount owed to pay off the account.
"Well, yes, 'except for…'"
Um, NO! It's the remaining amount owed.
"Except for…"
There is no 'except for…'! Yes, I see that there is still a balance due. What I want explained is why that amount wasn't included in the BALANCE DUE when I logged on to make my payment.
"But there is a balance due. I'll send you another copy of the confirmation showing the balance due"
I have that confirmation – that's why we're having this conversation.
"Well then, you can see there is a balance due…"
Dear Lord, get me off this ride!!
That went on for 30 minutes. Ultimately, I received a $50 on-board credit. I'm still waiting for someone to explain how balance due is not the balance due …
Bueller??
* Yes, I know. It's bad habit born of working from home. As wonderful as computers, mobile devices, and cellphones may be – they are the work of the devil. It is far too easy to sit in front of/hold a device and do what needs doin', all while life passes on by just outside the walls.
Comments Off

on What Does Balance Due Really Mean?
---
November 7, 2014
We've all been there –
sent an email, but forgot the attachment
allowed 'autocomplete' to choose the wrong recipient
used 'Reply All' for no good reason
forgot to use spellcheck
However, this is a prime example of 'what NOT to do' when composing and sending email: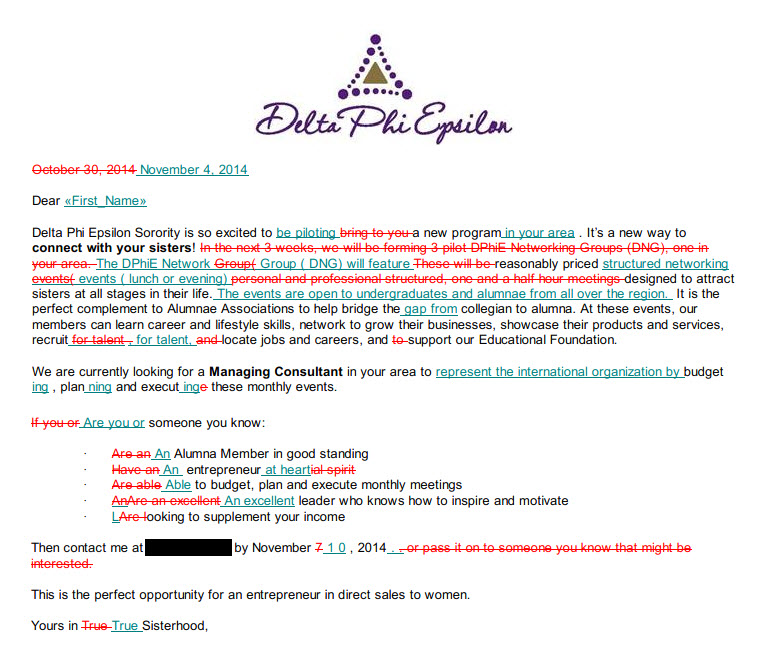 There is no reason E V E R to:
use track changes in an email, or
send a mass email before activating merge fields.
I'm mortified for the author and embarrassed for my sorority.  I won't even mention the grammatical errors I've spotted …
<sigh>
In spite of it all, I'd actually consider applying for a position.
Sororally yours …
Pamela J.  Starr
University of Texas – Chi Chapter
Comments Off

on What NOT To Do … Email Edition
---
November 5, 2014
Friends,
On this day after Election Day, I come to you to ask for your votes.
No, not for an elected position!
Perish the thought!!
My company, StarrParalegals, LLC, is a contestant in the 2014 StarpUpNation Home Based 100 and I want your votes.
If you've ever read this blog, followed me on Facebook, LinkedIn, or Twitter, you know that I'm passionate about being a paralegal and the owner of a home-based business. But don't just take my word … read what one of my life-long friends posted to Facebook: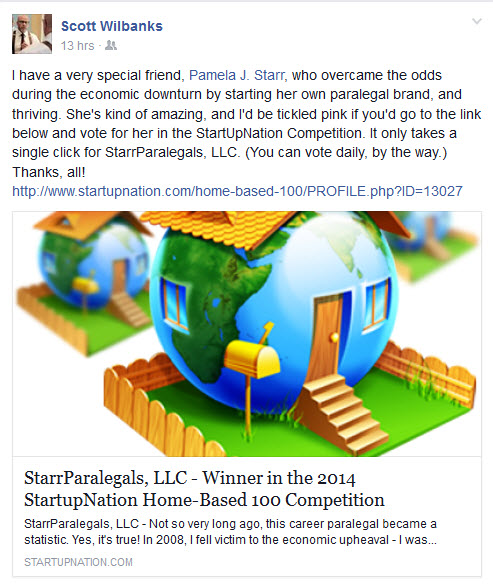 I know, you're asking yourselves, "Why should I vote?"
Your votes validate my choice to work virtually and will help me to grow my business. More credibility for me leads to more credibility for our industry.
The competition ranks the best performing home-based businesses across America in ten categories. One winner will be selected from each category to be featured as the Top Ten. Ninety other contestants will be ranked by top votes and judging. I was fortunate enough to be among the top 100 in the 2012 contest.
There isn't a prize package for the winners – just the opportunity to add an emblem like this one to our websites: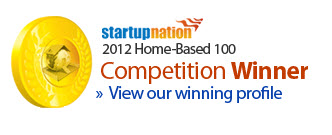 Participating in the contest, and, yes, winning, shows the world that my home-based business is both serious and relevant. It provides a window into the growing opportunities that exist, not only for paralegals, but also for anyone affected by the loss of job opportunities or looking to supplement their income.
Rich Sloan, co-founder of StartupNation.com, has said, "Home based businesses are the biggest block of all businesses in existence and we expect numbers to grow ever greater as extra bedrooms, kitchen tables, basements and garages increasingly host the innovative thinking and pursuit of success by millions of Americans."
Help me share my vision and my passion –
Vote for StarrParalegals today, and every day, until the voting closes on December 15th. Here's the link:
http://www.startupnation.com/home-based-100/PROFILE.php?ID=13027
(I'm not sure why the link defaults to say 'winner', but hey, I'll take it!)
Vote early!  Vote often!
Tell your friends – share the link.
I'm Pamela J. Starr and I approve this message.
Thank you.
Comments Off

on Just When You Thought Campaigning Was Over…
---