January 28, 2013
That's right, thanks to your votes, StarrParalegals, LLC  won Top Honors in the 2012 StartupNation Home-Based 100 Business Competition.
Can I get a "WOOT!"

StarrParalegals earned a rank of 54. In my universe, 54 is a magic number (cue music: … yes it is, it's a magic number …) (more…)
Comments Off

on And the Winner is …
---
January 28, 2013
Oh for the love of Pete!! (Seriously, who is Pete") Not 1, but 2 calls in one morning to  StarrParalegals from women wanting me, AS A PARALEGAL, to provide them with legal advice about divorce.
Paralegals are not lawyers. PERIOD. We are not permitted to give legal advice, EVER!
In a few states, paralegals are permitted to provide limited services directly to the general public; however, the rest of us work directly under the supervision of attorneys.
Furthermore, legal professionals specialize for a reason – it is impractical (an unwise) to do it all. Just because one of use understands an area of law as it is practiced in one state, it doesn't follow that we can apply that knowledge to the laws of another state. Sort of apples & apples, where some apples are Granny Smiths and others are Galas … Even if an attorney specializes in family/divorce law, that knowledge would be biased by the laws of the state in which (s)he is licensed. (more…)
Comments Off

on Paralegals Aren't Inexpensive Substitutes for Lawyers
---
January 24, 2013
I have many (M A N Y) pet peeves – blame it on the red hair if you must …
One of them is the lackadaisical manner in which some people 'apply' for jobs. Yes, I put half-quote marks around apply … it's as close as I could get to air quotes.
I'm talking about people who cannot be bothered to properly format an email with a salutation, body, and closing (think: cover letter), much less attach a resume. These individuals go speeding down the Interwebs, slamming their targets with poorly written/thought out dribble. As someone who wants to see my peers succeed, I take the time to evaluate and respond to each 'application' .
Allow me to clarify, my company is not hiring. There is nothing in my marketing materials, social media, or on my website to indicate otherwise. That does not stop people from blindly requesting that they be considered for a non-existent position. (more…)
Comments Off

on A Job Search 'Don't'
---
January 23, 2013
Ya know how people are always asking when the Jewish holidays will be for a given year …
"So, when is Passover/Rosh Hashanah/Hanukkah/ this year?"
To those unfamiliar with the Jewish calendar, the holidays seem to migrate from year to year. Well, I suppose they do  when your frame of reference is the Gregorian calendar. The reality is that Passover begins in the middle of Nissan; Rosh Hashanah falls on the Hebrew calendar dates of 1 and 2 Tishrei; and Chanukkah is always Kislev 25. Oh, yes, there are many more holidays on the calendar; this is but a mere sampling.
Okay, so the holidays have fixed dates, but, 'why?' you ask, do they move around on the real calendar? The short answer – the Hebrew/Jewish calendar is a lunar calendar consisting of 11 months; 12 in leap year.
So here is the kewl trivia I promised (with thanks to Asher Rappaport for sharing it on Facebook via Jonathan Mizrahi): (more…)
Comments Off

on Kewl Calendar Trivia
---
January 18, 2013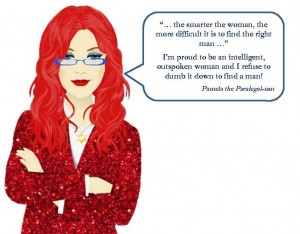 Comments Off

on Pamela the Paralegal-ism – Smart Women
---