September 28, 2011
"I could have been a Doctor, a Reporter or a Scientist. Instead, I am gifted with crisis management skills. I am a problem-solver, an innovator, a sympathetic ear, the reassuring presence, and a professional. I am a PARALEGAL!"
Thank you to Allen Mihecoby, fellow Paralegal and 2011 ParalegalGateway Paralegal Superstar
1 Comment
---
September 27, 2011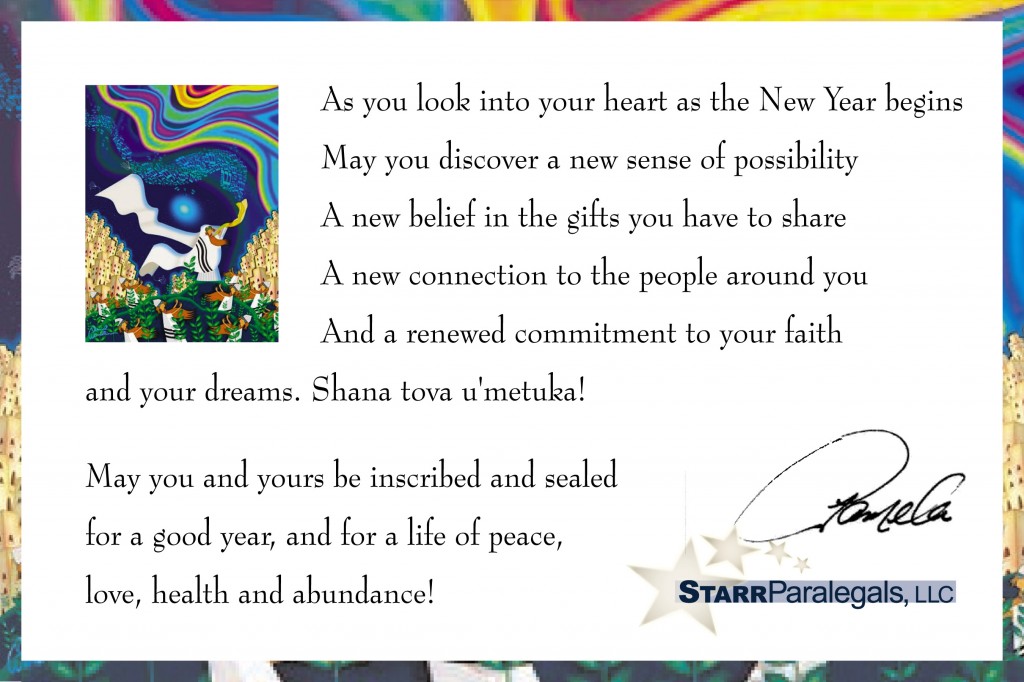 It's that time of year again – I will be out of the office on the following dates/times:
Noon, Wednesday, September 28th through Friday, September 30th (Rosh Hashanah),
Noon, Friday, October 7th, through Friday, October 7th (Yom Kippur),
Thursday, October 13th* and Friday, October 14th (Sukkot), and
Thursday, October 20th and Friday, October 21st (Shemini Atzeret/Simchat Torah).
Should you require any assistance while I am unavailable, please contact Michael Misenheimer (615) 553-2430 / [email protected].
As always, we appreciate your business and look forward to working with you.
Regards and best wishes for the coming year,
Pamela
Please note that I will not be taking calls, reading/responding to e-mail or texts, or using my computer on these dates.
*My birthday 🙂
Comments Off

on StarrParalegals' Holiday Hours
---
September 27, 2011
State Government offices will be closed on the following dates, plan your filings accordingly:
Tuesday, October 4th (Election Day)
Monday, October 10th (Columbus Day):
Alabama
Arizona
Colorado
Connecticut
District of Columbia
Georgia (more…)
Comments Off

on State Holiday Closings for October & November 2011
---
September 5, 2011
     I recently stopped accepting blind friend requests and started asking for more information about the sender before accepting such requests. I understand that FB makes suggestions and that sometimes it makes sense to follow along; however, when FB will allow it, I do try to send a short note of introduction AND my privacy settings are set such that almost anyone can see who I am, what I do for a living, and who my friends are.
I still believe that the onus should be on the sender to make an introduction rather than expect me to spend my valuable time trying to figure out who they are, where we met (if we met), and why we should be connected. It is analogous to walking into a networking event and throwing your business cards into the crowd and assuming that anyone will stop to pick up the card and, then try to find you in the room so they can introduce themselves to you.
I have started sharing a link provided by Nicole Bandes to 'validate' my inquiries. Mind you, I should not need to provide validation – I am completely within my rights to ask who someone is before opening my door …
A surprising number of people have taken offense to being asked for additional information – they have, in fact, been outright unprofessional and almost abusive. Here is the most recent exchange: (more…)
4 Comments
---