June 8, 2012
I've been following a particularly interesting thread on LinkedIn:
"A few associates of mine think that they can walk into a law firm to work with just having a paralegal degree and no experience, I told them that's not going to happen w/o exp. What are your thoughts?"
This is a phenomenal thread; filled with good advice and shared wisdom. I was particularly impressed by the comment that 'earning a paralegal certificate is akin to receiving a learner's permit'. It is true, no amount of education will prepare you for the real world.
Think about it – realistically – high school does not truly prepare you for the experience that is college; college and other degree programs do not prepare you for a job. An education provides you with the tools you need; if you're lucky, it also provides you with the knowledge to use those tools. Nothing, however, takes the place of education, determination, experience, and thinking outside the box to get the job.
We are in a difficult economy – the jobs are out there, but they are more difficult to find. Paralegals sometimes need to be chameleons to succeed. To that end, you should not have a boilerplate resume or cover letter – you need to put the energy and effort into customizing both for each position. I am not suggesting that you lie – heaven forbid – but you need to tailor the content for your audience.
Use your cover letter to distinguish yourself from the competition; (more…)
1 Comment
---
June 5, 2012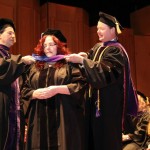 As you know by now, for the last year or so, I have been a student in a distance learning program offered by Thomas Jefferson School of Law in San Diego. Created by Dean William Byrnes, the Walter H. and Dorothy B. Diamond Graduate Program in International Taxation and Financial Services was the first Master of Laws (LL.M.) and Master of Science of Law (J.S.M.) program in the United States to go online. The J.S.M. program offered me, a mere paralegal, the opportunity to earn my Masters degree from law school in both Bankruptcy & Restructuring and E-commerce.
Yes, I am a walking commercial for the program … I can't help it. I never thought I would ever attend law school in any capacity, and I most certainly never thought I would be able to earn the equivalent of an LL.M. Although it was distance learning, our classes were held in real time. We met in a virtual classroom, listened to the lectures, and participated in discussions. It was a true classroom experience, well, except for the fact that I attended class in my basement and my only interaction with my professors and classmates was online… (more…)
Comments Off

on I do-ed it!! Added J.S.M. to my sig block!
---