January 27, 2015
Back in June 2012 (Oh, HELL No!), I posted about a disturbing – nay, creepy <cue the Hitchcock theme> – unsolicited call to my home phone. The caller, who was obviously reading from a script, was 'calling to verify that she had reached a Jewish home.'
As I wrote back then, "I refused to identify myself to the caller as Jewish, emphatically declined their invitation and respectfully requested that I be taken off their list."
It's been more than 2 years since that post with nary a comment, until today: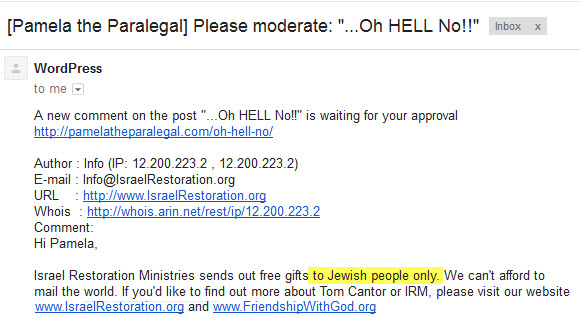 Well, isn't that special?!
"… to Jewish people only."
That's not creepy at all.
Never one to hold my tongue . . . I replied:

Chutspeniks!
They completely missed the point: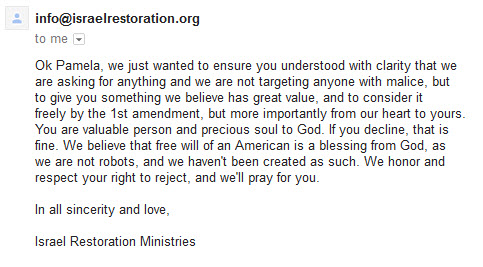 Ensure? Really?
Yes, my Grammar Nerd instincts have taken over –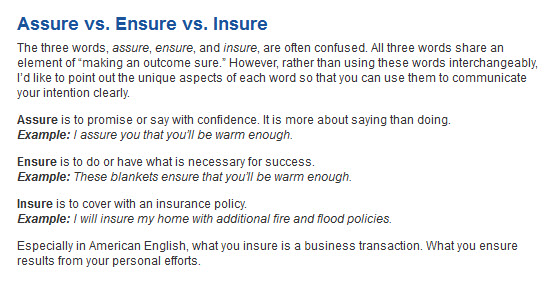 (The Blue Book of Grammar and Punctuation http://data.grammarbook.com/blog/definitions/assure-vs-ensure-vs-insure/)
Maybe this time they got the message . . .

Comments Off

on That's Chutzpah!
---
January 16, 2015
Oh, hell, I'll just post the screenshot of the email: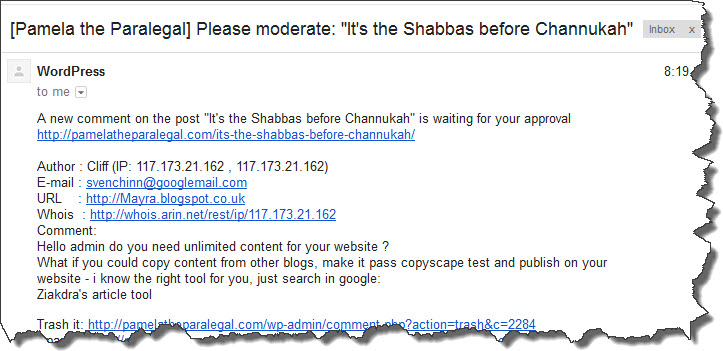 Just in case you don't see it – the sender is offering me a resource that will allow me to COPY CONTENT TO PUBLISH ON MY BLOG AND PASS THE COPYSCAPE TEST.
That's right! They are offering ME the opportunity to do unto to others what was done to me.
In light of the 'Great Copyright Wars' (ah yes, the saga continues)  – the email spawned several visceral responses:
uproarious, hysterical, nay, maniacal laughter;
the urge to bang my head repeatedly on my desk;
the requisite 'are you f*cking kidding me?' email to my nearest and dearest;
the desire to go a'hunting; and
this blog post.
Editor's Note: I didn't approve the submission.
bwahahahahaha
Comments Off

on A New Entry From the "I Can't Make This Stuff Up' Files
---
January 2, 2015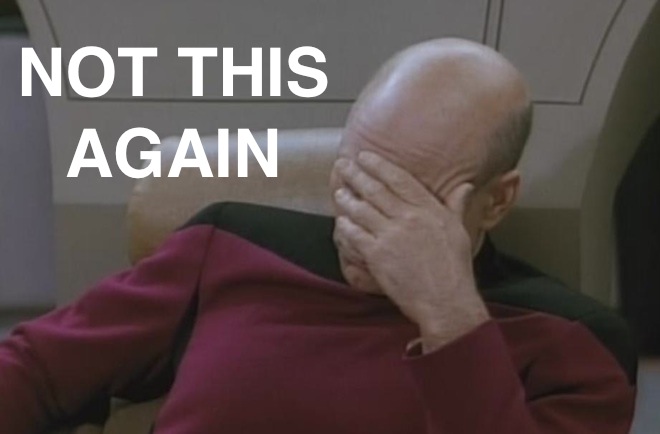 The business line just rang – I answered. The conversation went like this:
StarrParalegals, how may I help you?
Yes, hi, this is [unintelligible name]. I'm on your website. You're a paralegal and you do bankruptcy. Right?
Are you an attorney?
(at this point, we start talking over each other)
Yeah, ok, no, but I need to . . .
We only provide services to attorneys.
Yeah, ok, I know you're not an attorney. So how much is it to file my bankruptcy?
Ma'am, we do not work with the public.
Yeah, ok, but how much to file . . .
You're on our website, right? It is stated quite clearly on every page of our website that WE ONLY WORK WITH ATTORNEYS. I cannot help you.
Yeah, ok, but . . .
I cannot help you.
CLICK!
1 Comment
---