November 27, 2012
Enter to win a $100 Amazon Gift Card Giveaway thanks to Train ACE. Fulfill all the entries below to increase your chances. Good luck!
I do a lot of shopping on Amazon – for business, school, gifts, and, of course, for me 🙂 Amazon makes it so easy to compare prices, shop and ship.
What's on your Amazon shopping list if you win?
a Rafflecopter giveaway
Giveaway brought to you by Train ACE Academy of Computer Education. Visit the giveaway page here.
Comments Off

on $100 Amazon Gift Card Giveaway
---
November 26, 2012
This is the first of, what I am sure will be, many 'Pamela the Paralegal-isms' (or PtP-isms) to come …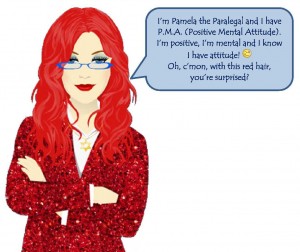 Comments Off

on Pamela the Paralegal-ism – P.M.A.
---
November 26, 2012
Oy veysmir!
I really have better things to do with my time … work, homework, lesson plans, and some gremlin decided to mess with the plumbing in my master bathroom last night …
Today, I have posted blogs on the idiocy of Facebook posts claiming privacy and copyright protection under UCC-1 308 and the Bern Convention … now I see that the latest iteration of the posts includes the following warning:
The content of this profile is private and confidential information. The violation of my privacy is punished by law (UCC 1 1-308-308 1-103 and the Rome Statute).
It breaks my heart to see how many sheeple are on my wall … and that some of them are respected attorneys who really should know better … smh.
Again … Facebook is a public forum. If you don't want something seen, copied, etc., DON'T POST IT!! Or set your privacy settings to the highest possible levels. (more…)
Comments Off

on Privacy Notices – Part 3
---
November 26, 2012
As I completed my most recent post on the misuse of UCC-1 308 as a means to protect one's privacy with regard to social media, I found that the previous BS had been supplanted by the addition of a copyright warning purporting to be 'pursuant to the terms of the Berne Convention.'
C'mon people … even the simplest among us should be able to Google or Bing or SOMETHING to determine the veracity of information before succumbing to the sheeple-mind and mindlessly re-posting.
See my post on UCC-1 308 about privacy and then read the following about copyright … yes, I am something of an expert on the issue. With the assistance of Mitchell Goldstein, I successfully protected my intellectual property and copyright under the Digital Millennium Copyright Act or DMCA against four (4) different entities. (I'll post those stories another day…)
Let me break this down for you … (more…)
Comments Off

on Copyright, the Berne Convention & Social Media
---
November 26, 2012
It's one of those myths that just won't go away – this nonsense that UCC-1 308 somehow can protect one's privacy or copyright with regard to Facebook postings and other forms of social media.

When you create an account with Facebook, you have to agree to their terms and conditions which includes Facebook's privacy terms. The implication that Facebook users can make up their own privacy conditions merely by posting a message on their profile is ridiculous.

Enough already …
Posting a 'Notice Pursuant to UCC 1-308' to 'place Facebook, et al. on notice about your privacy rights' does nothing more than take up real estate on your Facebook wall. The UCC deals with COMMERCIAL law (um, Uniform COMMERCIAL Code), it has bugger-all to do with social media.
Period.
End of Conversation.
Comments Off

on Social Media & UCC 1-308 'Privacy Notice'
---