May 30, 2018
I a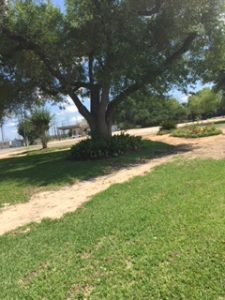 m, and always will be, a Houstonian – born in Methodist Hospital on Friday, October 13, 1961 at 14:13, and, but for a year in El Paso as a wee little one and 4 years in Austin at the University of Texas (and my dislocation to Atlanta nigh on 20 years ago), lived there my whole life.
My heart, family, and friends are in Houston. My amazing mother lives in the Meyerland house my grandparents bought not long after I was born. That house and my soul bear the scars of two floods – 50 years after the house was built. 
Houston, my hometown, will be forever marked by Hurricane Harvey's devastation; some places more than others.
This morning #MommieStrong sent a picture, a lone tree in an empty field … a piece of my soul died.
The tree stands on the grounds of what used to be Congregation Adath Emeth/United Orthodox Synagogue – the beit knesset where I learned and prayed for the first 12 years of my life.
The shul where I davened on yuntif with my grampa, Charlie Novak (Z"L) and he held me close under his tallis.
I was consecrated at UOS,
named 'Queen Esther' one Purim, and
planted the tree on Tu b'Shevat 1970 …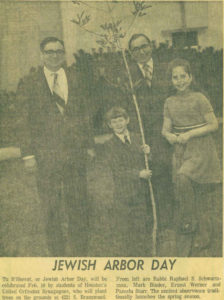 It was another time.
The shul and surrounding community were heavily damaged by the Memorial Day 2015 flood. My former rabbi and teacher (Z"L) was rescued by canoe.
They rebuilt.
Two more freak, flooding incidents followed.
They rebuilt.
Then, Harvey.
This time, they tore it down.
See the tree.
2 Comments
---
May 16, 2018
StarrParalegals will be closed Monday, May 21st, in observance of Shavuos. 
I can hear the collective "Oy vey!" from here.
The Atlanta office will close at 3 pm (EDT), Friday, May 18th (same time as any other week) and reopen Tuesday morning, May 22nd.
Shavuos celebrates the day HaShem gave us the Torah at Mount Sinai.
On Shavuos, we renew our acceptance of this very precious gift.
Oh, sure, we congregate, eat, … and we learn.
Oy, how we learn!!
All night we study and learn.

So, even if work weren't prohibited, you wouldn't really want an exhausted me handling your files.
We wish everyone a relaxing weekend and a hearty Chag Sameach for 'our' MOTs!
Remember, StarrParalegals is the most useful tool in your toolkit – utilize us:
E-filing, anywhere and everywhere

Bankruptcy Petition Preparation – from intake to filing – ALL chapters

Bankruptcy Motion Support (draft, file, serve)

Motions for Relief

Proofs of Claim

Notices of 4001 Examination

Proposed Orders

Fee Applications

and more . . .

Adversary Proceedings & Preference Actions (draft, file, serve)

Complaints/Answers

Case Management

UCC Filing, Search & Retrieval, Summarize Priority/Status

Litigation Support

Draft Pleadings

Document Review

Deposition Summaries

Prepare & Serve Subpoenas

Discovery Requests/Responses

Legal Research / Memoranda

Immigration Support
We're here to make your billable hour worth every penny. Tell us what you NEED. We're quick studies and welcome the opportunity to increase our skill sets. If we can't help you, we'll refer you to someone that can.
Comments Off

on Another Holiday: Shavuos
---
May 7, 2018
My company, StarrParalegals, provides paralegal support to attorneys PERIOD.
A simple concept, that is until I realized people have developed 'selective reading'. It's a bit like selective hearing. You know, the way a parent doesn't hear, "Mommie!!! Mommie!!! I WANT THIS!" Or an attorney doesn't hear repeated reminders of upcoming deadlines and bar dates 😉
Why is this an issue? Because non-lawyers keep wasting my time – constant calls from folks that "don't really need an attorney" or "just want to ask a simple question" or who dive straight into the facts of their case despite the loud repetition of my mantra: "I'm sorry, we can't help you. We only work for attorneys. If you're not an attorney, we can't help you."
They even ignore the outgoing message on my phone, "Thank you for calling StarrParalegals … if you're not an attorney or representative of a law firm, we can't help you. Please hang up; don't leave a message …" (I need to re-record it, so please don't call to check it out.)
Everyone claims they've 'been to my website'.
Nu? DID YOU SEE THE DISCLAIMER AT THE TOP OF EVERY SINGLE PAGE??!!??

Well, uh, yeah, but …
Or better yet, "I didn't actually go to your website. You just came up on Google, so I called." (BULL CACA!)

And the emails … OY!! The emails!!

Really? Did you REALLY look? Did you READ THE WORDS?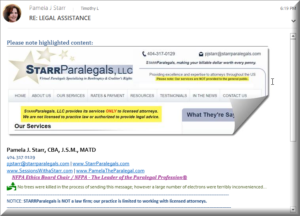 Clue, buy you should.
Comments Off

on What Part of "ONLY Licensed Attorneys" Don't You Understand?
---