What Part of "ONLY Licensed Attorneys" Don't You Understand?
May 7, 2018
My company, StarrParalegals, provides paralegal support to attorneys PERIOD.
A simple concept, that is until I realized people have developed 'selective reading'. It's a bit like selective hearing. You know, the way a parent doesn't hear, "Mommie!!! Mommie!!! I WANT THIS!" Or an attorney doesn't hear repeated reminders of upcoming deadlines and bar dates 😉
Why is this an issue? Because non-lawyers keep wasting my time – constant calls from folks that "don't really need an attorney" or "just want to ask a simple question" or who dive straight into the facts of their case despite the loud repetition of my mantra: "I'm sorry, we can't help you. We only work for attorneys. If you're not an attorney, we can't help you."
They even ignore the outgoing message on my phone, "Thank you for calling StarrParalegals … if you're not an attorney or representative of a law firm, we can't help you. Please hang up; don't leave a message …" (I need to re-record it, so please don't call to check it out.)
Everyone claims they've 'been to my website'.
Nu? DID YOU SEE THE DISCLAIMER AT THE TOP OF EVERY SINGLE PAGE??!!??

Well, uh, yeah, but …
Or better yet, "I didn't actually go to your website. You just came up on Google, so I called." (BULL CACA!)

And the emails … OY!! The emails!!

Really? Did you REALLY look? Did you READ THE WORDS?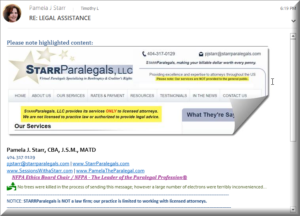 Clue, buy you should.