Just When You Thought Campaigning Was Over…
November 5, 2014
Friends,
On this day after Election Day, I come to you to ask for your votes.
No, not for an elected position!
Perish the thought!!
My company, StarrParalegals, LLC, is a contestant in the 2014 StarpUpNation Home Based 100 and I want your votes.
If you've ever read this blog, followed me on Facebook, LinkedIn, or Twitter, you know that I'm passionate about being a paralegal and the owner of a home-based business. But don't just take my word … read what one of my life-long friends posted to Facebook: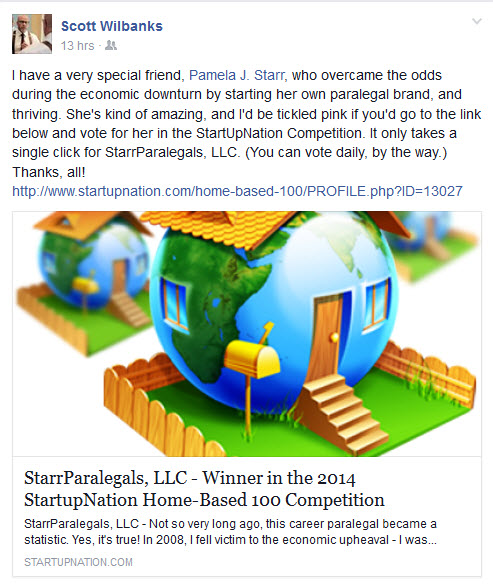 I know, you're asking yourselves, "Why should I vote?"
Your votes validate my choice to work virtually and will help me to grow my business. More credibility for me leads to more credibility for our industry.
The competition ranks the best performing home-based businesses across America in ten categories. One winner will be selected from each category to be featured as the Top Ten. Ninety other contestants will be ranked by top votes and judging. I was fortunate enough to be among the top 100 in the 2012 contest.
There isn't a prize package for the winners – just the opportunity to add an emblem like this one to our websites: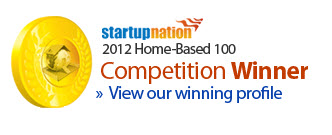 Participating in the contest, and, yes, winning, shows the world that my home-based business is both serious and relevant. It provides a window into the growing opportunities that exist, not only for paralegals, but also for anyone affected by the loss of job opportunities or looking to supplement their income.
Rich Sloan, co-founder of StartupNation.com, has said, "Home based businesses are the biggest block of all businesses in existence and we expect numbers to grow ever greater as extra bedrooms, kitchen tables, basements and garages increasingly host the innovative thinking and pursuit of success by millions of Americans."
Help me share my vision and my passion –
Vote for StarrParalegals today, and every day, until the voting closes on December 15th. Here's the link:
http://www.startupnation.com/home-based-100/PROFILE.php?ID=13027
(I'm not sure why the link defaults to say 'winner', but hey, I'll take it!)
Vote early!  Vote often!
Tell your friends – share the link.
I'm Pamela J. Starr and I approve this message.
Thank you.