The Copyright Wars – UPDATE
December 22, 2014
A couple weeks back, I posted about content theft by, at least, two virtual service vendors – It's Not Flattery, It's Plagiarism! (Georgia Peach Virtual Paralegal Services) and It's Still Stealing – Another Copyright Violation (Flawless Petitions, LLC). Ultimately, I discovered a third offender, Inquest Resources.
I emailed the owners of all three companies, respectfully requesting that they remove my content from all profiles and marketing materials.
Flawless responded: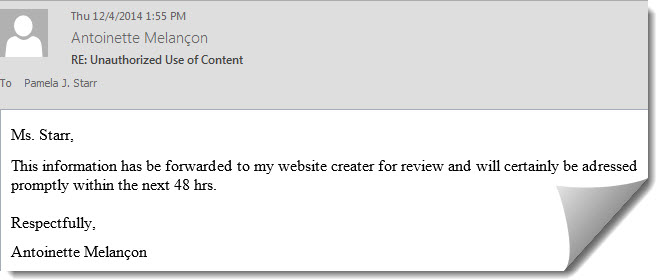 (I had to share the email – y'all wouldn't have believed me if I'd cut and pasted such flawless content.)
Subsequently, she removed the content. Well, she made an attempt to remove it. She has removed all but the first line of my mission statement from her website and LinkedIn profile, but failed to remove other content.
Inquest responded – click here for the entire exchange.
To date, I have not heard from Georgia Peach.
I took the only logical next steps – I filed reports with LinkedIn, Facebook, and eLance (Ms. Peach). I'm still waiting to hear back from eLance.
LinkedIn has removed the brochure, that contained my content, from Ms. Peach's LI profile and has confirmed the removal of all but the first line of my mission statement from Flawless' profile (although, she is still using the CBA designation without authorization). Facebook has removed/blocked Georgia Peach's business page and has removed my content from Flawless' page.
They really shouldn't mess with a redhead from the GSOT … #justsayin.