You Can't Stop Stupid
April 19, 2016
I'm still anxiously watching weather reports from Houston … it's really not the day to mess wif me! <Mah nishtana hayom hazeh?>  But you can't stop stupid.
My business phone rings – 'unknown caller'. I sense a disturbance in the Force and answer with trepidation.
"StarrParalegals; this is Pamela Starr. How may I help you?"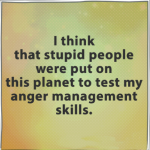 Caller: 'Uh, yeah, uh. Can you help me to uh …'
Me: "No sir. We only work with attorneys."
Come on people. I don't need to be a Jedi master to identify a caller as a member of the 'public'.
The line goes dead. Moments later, the phone rings again – same number. Oh, really? 
The stoopid is strong in this one.
"StarrParalegals; this is Pamela Starr. How may I help you?"
Caller: 'Uh, yeah. I just called. I need help with a, a Georgia corpor… incorporation. Is that …'
Me: "Sir.  We only work with attorneys. It states that quite clearly in Google search results and on our website."
Caller: 'Yeah. Uh. Uh. Right. Uh, I'm a [sic] attorney in South Georgia <yeah, that's the ticket!>. Can you help me?'
I'm not buying it. After 30 years in the business, 9 on my own, my lawdar is pretty good.
Me: "May I have your name?"
It's a reasonable request. Right?
Caller: '<grumble> unintelligible comments to someone in the background … giving me the <expletive> runaround!' <dead air>
REALLY?!? Asking for your name is 'giving you the runaround'? 
2 Responses to "You Can't Stop Stupid"
Jessica Lancia
April 20th, 2016 at 7:18 pm

Dear Pamela,

Your blog is a hoot! Would be OK for me to repost articles from your blog on my company's website and social media (www.docketlogic.com)? If you allow, what are your parameters?
Thanks and keep up the great (hilarious) work!
Jessica

admin
September 27th, 2016 at 5:08 pm

Jessica – thank you! Please repost anything that tickles your fancy; all I ask is that you pingback to the original post and give me credit in the byline with a link to http://www.starrparalegals.com.