Time For An Upgrade
March 14, 2018
We're busy, busy, busy here at StarrParalegals, but never too busy for new assignments and referrals.
This Paralegal Extraordinaire started out as a true solo with a laptop, printer, phone, and internet connection. I worked at a small desk in the 2nd floor hall/landing, overlooking my living room (and with so much more natural light). A couple of years in, my friend and mentor, Lyza Sandgren, gifted me with the gorgeous desk you see below.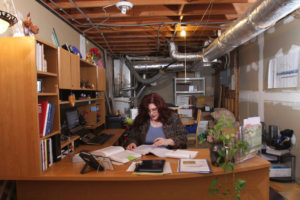 I wore almost all the hats those first few years. When I wasn't working or writing, I was learning. Over 5-years, I learned myself into two graduate degrees – a Master of Science of Law and a Master of Arts in Training & Development. With sheepskins in hand and new letters following my name, StarrParalegals is flourishing.
Oh, how things have changed!
I work with a team of experienced sub-contractors and like-minded virtual paralegals to offer more services. My laptop is now the brain controlling dual (dueling?) monitors and 2 LaserJet printers (black & white and color). Sure, my desk and workspace are cluttered, but they say that's a sign of brilliance 😉 
After almost 10 years (yes … TEN years!), I'm finally turning my dungeon basement into a proper office! 
Imagine the space with:
a back wall and door to a proper utility/storage area;


finished, painted walls;

a textured, industrial ceiling; and
The cat stays. Mr. Sulu is my supervisor and that's his chair; Lt. Uhura is lurking under the desk.
Remember StarrParalegals for your virtual paralegal support needs. We're here for you.
And with that, it's back to work!