December 1, 2016
When you've been doing this as long as I have (no age jokes, thank you very kindly), then you know year-end changes and effective dates are inevitable – 
EFFECTIVE
 TODAY – December 1, 2016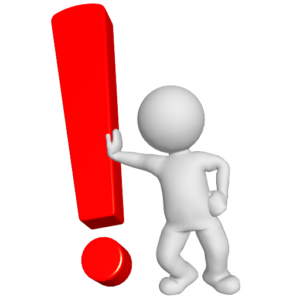 New Bankruptcy Rules, Fees, & Forms

The Powers-on-High have blessed the implementation of new bankruptcy rules, fees, & forms.
What does this mean for you? Well, there's a chance the documents you prepared yesterday, but haven't filed yet, may need to be updated before you file.
Here's the scoop: 10 amended bankruptcy rules, a new Rule 1012, a slew of bankruptcy fee increases, and 3 new forms.
Amended Bankruptcy Rules:
1010. Service of Involuntary Petition and Summons
1011. Responsive Pleading or Motion in Involuntary
2002. Notices to Creditors, Equity Security Holders, Administrators in Foreign Proceedings, Persons Against Whom Provisional Relief is Sought in Ancillary and Other Cross-Border Cases, United States, and United States Trustee
3002.1. Notice Relating to Claims Secured by Security Interest in the Debtor's Principal Residence
Amended to clarify when secured creditors must file a Payment Change Notice ("PCN") in a Chapter 13 on all claims secured by the debtor's primary residence for which the debtor or Chapter 13 Trustee is making post-petition payments during the bankruptcy and that the PCN requirement ceases once the creditor obtains relief from stay, unless otherwise ordered by the court.
7008. General Rules of Pleading
7012. Defenses and Objections – When and How Presented – By Pleading or Motion – Motion for Judgment on the Pleadings
7016. Pre-trial Procedures
9006. Computing and Extending Time: Time for Motion Papers
Revised three-day rule – No extension of time when service is made electronically.  (See also revised Bankruptcy Rule 9006(f), Appellant Rule 26(c), and Civil Rule 6(d))
(f) ADDITIONAL TIME AFTER SERVICE BY MAIL OR UNDER RULE 5(b)(2)(D), (E), OR (F) F.R.CIV.P.  When there is a right or requirement to act or undertake some proceedings within a prescribed period after service being served and that service is by mail or under Rule 5(b)(2)(D) (leaving with the clerk), (E), or (F) (other means consented to) F.R.Civ.P., three days are added after the prescribed period would otherwise expire under Rule 9006(a).
9027. Removal
9033. Proposed Findings of Fact and Conclusions of Law
New Bankruptcy Rule:
1012. Responsive Pleading in Cross-Border Cases
Filing Fees:
New Petitions:
Chapter 7
$335.00
Chapter 9
$1,717.00
Chapter 11
$1,717.00
Chapter 12 (Family Farmer)
$275.00
Chapter 13
$310.00
Chapter 15
$1,717.00
Case Reopening:2
Chapter 7
$260.00
Chapter 9
$1,167.00
Chapter 11
$1,167.00
Chapter 12
$200.00
Chapter 13
$235.00
Chapter 15
$1,167.00
Case Conversions:
Chapter 7 to Chapter 13
None
Chapter 7 to Chapter 11
$922.00
Chapter 11 to Chapter 7
$15.00
Chapter 12 to Chapter 7
$60.00
Chapter 13 to Chapter 11
$932.00
Chapter 13 to Chapter 7
$25.00
Amendments:
Schedules D or E/F
$31.00
Master Mailing List (exceptions listed in "Miscellaneous Fee Schedule")
$31.00
Motion to:
Compel Abandonment of Property
$181.00
Terminate, Annul, Modify, or Condition of the Automatic Stay
$181.00
Withdraw Reference
$181.00
Sell Property of the Estate Free & Clear of Liens under 11 U.S.C. §363(f)
$181.00
Redact previously filed documents in a bankruptcy case
$25.00
Other:
Abstract of Judgment
$9.00
Appeal*
$298.00
Certification
$11.00
Claims Transfer
$25.00
Complaint (Adversary Proceeding)
$350.00
Cross-Appeal*
$298.00
Exemplification
$22.00
Filing or Indexing of Miscellaneous Paper
$47.00
Issuance of Out of District Subpoena
$46.00
Photocopies Made by Court Personnel (per page)
$0.50
Printed Copies from Courthouse Public Terminal (per page)
$0.10
Registration of Judgment from Another District
$46.00
Reproduction of Audio Recording (regardless of the medium)
$31.00
Retrieval of Records from NARA (first box)
$64.00
Retrieval Involving Multiple Boxes of NARA Records (each additional box)
$39.00
Retrieval of Records from NARA via Smart Scan plus .65 per page
$19.95
Returned Fee Charge (e.g., insufficient funds, disputed charges)
$53.00
Search of Court Records (each name/item searched)
$31.00
1 Issued in accordance with 28 U.S.C. § 1930(b) and FRBP 1006.
2 The Court collects the fee unless a party files a complaint to obtain a determination under Rule 4007(b); or when a debtor files a motion to reopen a case based on alleged violation of the terms of the discharge under 11 U.S.C. § 524; or whether the reopening is to correct an administrative error.
* If the Court of Appeals authorizes a direct appeal, or direct cross appeal, an additional fee of $207.00 will be collected by the bankruptcy clerk.
Miscellaneous Fees:
| | |
| --- | --- |
| Motion to terminate, annul, modify or condition the automatic stay | $181.00 |
| Motion to compel the abandonment of property of the estate | $181.00 |
| Motion to withdraw the reference of a cases or proceeding | $181.00 |
| Motion to sell property of the estate free and clear of liens under 11 U.S.C. § 362(f) | $181.00 |
| Exemplification of any document | $22.00 |
| Reproduction of an audio recording of a court proceeding | $31.00 |
| Amending debtor's schedule of creditors, list of creditors, or mailing list | $31.00 |
| Conducting a search of the bankruptcy court records | $31.00 |
| Filing any document that is not related to a pending case or proceeding | $47.00 |
Official Forms
Amended to conform  with the Forms Modernization Project and to change the phrase "mail" to "send".
Part 1 Instructions amended for clarification, adding the following language:"If the court has previously approved an amount, indicate that approval in parentheses after the date the amount was incurred."
Don't forget to check your local rules and forms for changes!
Happy filing 🙂
Comments Off

on (Some) Bankruptcy Rules, Forms & Fees, They are a Changin'
---
September 27, 2016
It's that time of year … time to reflect, repent, forgive, and rejoice.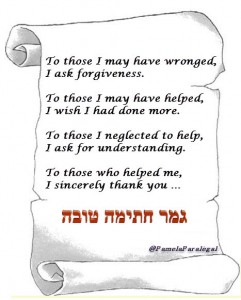 In these days before the High Holy Days, I ask your forgiveness and understanding and I pray that the coming year is one of peace, prosperity, health, and joy.
As I look back at 5775 (2015) and the past year, 5776, I am humbled by the kindness and generosity of strangers and friends – near and far – throughout the ordeals now known as the Memorial Day and Tax Day Floods (Houston). I am grateful that my mother is healthy. back in her home, teaching, traveling, and doing all the things than make her happy. B"H
I count my family (yes, that includes Sulu & Uhura 😉 ), friends, colleagues, and clients among my blessings. May you all be blessed.
G'mar chatima tova.
Omayn, v'omayn.
Comments Off

on As 5776 Draws to a Close
---
October 29, 2015
I am a true solo – it's just me and two cats. No husband, boyfriend, or significant other to assist with the bills (or anything else in my life). I work in my unfinished basement at a beautiful desk donated by my friend and mentor, Lyza Sandgren. My walls and ceilings are exposed studs; my floor, concrete. But for the island that is my desk and the leftover carpeting on the floor, I am surrounded by storage boxes, the water heater, and furnace. With no walls, I have no place to hang my diplomas, certificates, or other office decor.
Let me clarify, I'm not complaining. I chose this life and I love what I do as a professional virtual paralegal. There is nothing to compare to the flexibility of grabbing my laptop and being productive – anywhere. The only thing I miss about working in a brick-and-mortar law office would be the steady paycheck … okay, fine, I miss having a full benefits package.
To stay in business (and keep the bills paid), I rely on my clients to pay me timely and in full. To paraphrase Blanche DuBois (A Streetcar Named Desire), 'I depend on the kindness of strangers.' I've never actually met 95% of my clients in real life. Most of my clients find me through social media and referrals, and occasionally from a professional listserv in which I participate.
The attorneys I 'know' from my interactions on Facebook, LinkedIn, or the listserv are hardly strangers. These are people with whom I have had several intelligent (and sometimes silly) interactions. So when one of them contacts me for a one-time gig, I sometimes rely on email confirmations to seal our agreement.
Attorneys will kvetch, until they're purple, about clients who fail to pay their bills on time. The same attorneys, also insist upon a retainer or prepayment before they'll work on a file. However in the bizarro world in which I work as a virtual paralegal, they will huff and puff about providing me with the same courtesy.
This year alone, I've had two attorney clients – with contracts – fight me tooth and nail over my invoices. If it weren't for my own bottom line, it would almost be comical how they try to wiggle out of their contractual obligations. Seriously people, I have better things to do with my time and energy than fight with anyone about payment.
It is basic business practice – you hire me to work, we agree on a fee, I complete the assignment, send you a bill, and you freaking pay me. It's all paint by numbers. Isn't it?
I'm currently chasing after a 3rd attorney for payment of my duly earned fees – a non-contracted attorney client that hired me in May for a one time gig. As a courtesy, I offered him the "friends and family" discount because I know him from the listserv. We agreed on a fee; I completed the work promptly; and at the end of the month I sent him an invoice.
His response to th

e invoice was, "I will forward payment once the client pays me." AND he addressed me as Pam in his responsive email… the horror!
Since we didn't have a formal contract in place, I didn't hold him to my net 30-day payment clause. I did, however, admonish him for calling me Pam.
On July 1st, I sent him a 'friendly' reminder email with another copy of the invoice. Four days later he responded, "The issue is still open." In my head I went full-on Yosemite Sam – after all, the original invoice was only for about $200.
For those of you who follow this blog, you know my summer did not begin well. My mom's home, in Houston, flooded on May 26, 2015. I've spent the greater part of the last several months at her side. The folks on the listserv are more than well aware of some of the more significant issues with which I had to deal because of the impact of the flooding. The least of which has been the impact on my finances and business.
I've tried, unsuccessfully, to avoid using the flood as a crutch. It seems unprofessional for me to invoke my circumstances to impart guilt on those who refuse to pay me timely.
When it came time to send out the July bills at the beginning of August, I reversed the discount and made demand for payment within 15 days, reminding him I too expect timely payment for services rendered. His response, "And I have yet to be paid by the client, as they hit some snags. We anticipate closing 9/1." AND he called me Pam again!
I immediately responded with a gentle reminder that I prefer Pamela to Pam, and, much to my embarrassment, I invoked the flood.
Yosemite Sam was having an old-fashioned cussin' party in my head. It's not nearly as funny as it may sound.
I rationalized it. I'd give him until September 1 to make good on the invoice. The reminder went out on September 2nd.
<crickets>
He couldn't be bothered to send a response.
On October 1st, I reiterated my demand for payment in full. I even used bold, red 18-point font followed by a lot of exclamation points.
<more crickets>
October is almost over and I'm still waiting for payment of, what most might consider, a measly $225.
Remember, I'm a true solo. That $225 represents round-trip airfare back home to Houston to help my mom. Ethics, and my personal moral compass, prohibit me from outing him by name, location, or area of practice either here or on the listserv. It would cost me more than what I'm owed to sue him. I have few options, but venting to you, my loyal followers, helps.
In the meantime, I'll go back into the invoice and assess interest charges and on November 1st, I'll send him the updated invoice and demand for payment.
And on that happy note, I'll get back to working for the clients who appreciate and pay me.
1 Comment
---
September 8, 2015
… it's time to reflect, repent, forgive, and rejoice.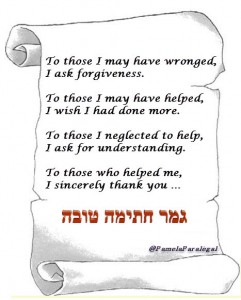 In these days before the High Holy Days, I ask your forgiveness and understanding. I wish everyone a year of peace, prosperity, health, and joy.
At this time, I also want to extend my gratitude to those who helped me, my mother, and the Houston community following the flood. May you all be blessed.
Omayn, v'omayn.
Comments Off

on As 5775 Draws to a Close
---
August 26, 2015
Y'all know me – 'speechless' and 'without words' rarely apply to me. It usually happens when I am too stunned by the comment(s) to respond immediately.
Imagine my reaction to a blog post titled: "Your Paralegals are an Embarrassment". I clicked the link. My hope was to read '. . . of riches'.  (It pains me to post the back link, but I'm no 'embarrassment'.)
Hope.dashed.
The author gleefully states, "Today, I'm going to really annoy the paralegals."
ANNOY?
Oh, bless his heart.
In short, the author (and several commentators) think our profession is overrated; we should and can be replaced by technology; and/or entry level associates provide more value to a practice than we do.
REALLY???
My comment, awaiting moderation as of 10:45 a.m.:
"Wow. Just, wow. You really have zero, zilch, nada, no appreciation for our profession.

"Paralegals have largely been replaced by technology." Well, using that logic, so have many attorneys. Tell me, when was the last time tech checked the local rules and forms to confirm that all was indeed in order? Oh, right, 'my software/service vendor does that automatically.' Not so much. I have a client in California who relies on his vendor to provide all the latest local rules' forms updates. All it took was ONE rejected filing for him to realize that the vendor was not updating the forms and that it was more cost effective to have a paralegal take a few extra minutes to make sure the forms in use are, and remain, current.

"Is client communication better handled by the paralegal or by the attorney managing the matter? What about simple tasks like preparing documents for trial?" Let's look at this from the client's point of view – does your client want to pay your hourly rate or a paralegal's?

And if you think paralegals don't specialize and create niches, you should recheck your sources. 99% of us are – Brad, what did you call it? – oh, right, 'hybrids'. Our titles may not reflect the jobs we actually do, but, and trust me on this, we've always been hybrids.

All of you seem to think the only way to 'employ' a paralegal is to hire one as a full time staff member. Most solos/small firms don't have the budget for full-time, salaried employees – especially when those employees' services aren't required full time. You want paralegals who are 'tech-driven'? Open your eyes! There's an entire subset of trained, experienced, certified/certificated, practice-specific virtual paralegals. We, yes, 'we', provide as needed services. That means 'pay as you go'. You want to improve your bottom line, increase productivity, and keep your clients happy? Think virtual."
On another note … I wonder if it ever occurred to the author to post credit for his use of the image?
10 Comments
---