June 2, 2016
In May 2014, I posted a review of one of the best tools to ever cross my desk – WordRake. I meant to post an updated review in May 2015, but … the Texas floods happened.
You're asking, what it this WordRake of which you speak?
It's a software add-in for Microsoft Word and Outlook that acts as an 'in-line editor designed for professional business writing.'
"WordRake is designed to edit documents and emails to remove useless phrases and words, making your documents and emails clear and concise." Take the sentence below. The original was composed in perfect legalese, but the raked version is much easier to read and presents a stronger argument.

I write a lot – pleadings, memoranda, correspondence, and more for my clients; magazine articles; my blog; training materials; and homework*. After a week of 'raking', I discovered I use 'that' a lot more than necessary. WordRake clarified my thoughts without changing my voice.
It's so easy to use – highlight and rake. Within a minute or so, WordRake scans the document and provides suggested edits. All that's left is to review the suggestions and decide whether to accept or reject them. I am still surprised by how much unnecessary and cumbersome language it finds in my writing. Bottom line, WordRake continues to make me a better writer.
Click below to see WordRake in action:

Sign up for a free trial today (no credit card required). You'll be hooked.
I finally graduated!! On May 13, 2016, I earned the right to add MATD (Master of Arts in Training & Development) to my credentials.
Comments Off

on Things That Make My Work Easier
---
February 6, 2014
Have you been waiting to sign up for a Costco membership?
I know, for some it seems silly to pay for the privilege of shopping at a store – after all, your membership fee subsidizes the discounts you receive. Then again, there is a reasonable ROI ('return on investment' – ooh! look, I'm using language from my current class at RU!)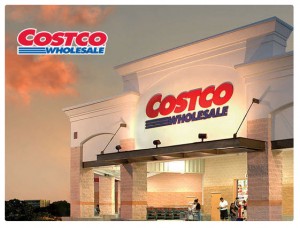 Here's the deal, use this link to purchase a voucher at LivingSocial for a 1 year Gold Star Membership for $55 ($104.47 value). You'll also receive a $20 Costco Cash Card AND a pack of bonus coupons ($29.47 value) good for:
* a free Kirkland Signature™ 48-pack of AA batteries,
* a free rotisserie chicken,
* a free Kirkland Signature™ case of water,
* $4 off Kirkland Signature™ coffee, and
* $4 off Kirkland Signature™ albacore tuna.
PROMO ENDS February 8, 2014
PAID VALUE EXPIRES ON February 6, 2019
PROMOTIONAL VALUE EXPIRES ON May 10, 2014
Here's the link again: http://ow.ly/tlM8L
(FYI: the link takes you to LivingSocial for Beaumont TX, but voucher is good anywhere)
the fine print
This offer is valid for NEW members only
Limit 1 Membership per customer, up to 3 additional Memberships as a gift
Limit 1 Costco Cash Card per customer/household
Entire value of Voucher must be used in a single visit
To qualify for this special offer you must purchase the Costco Membership Activation Certificate through this promotion.
Offer may not be combined with any other offer or coupon
Costco Membership Activation Certificate will be emailed to you immediately after completing your purchase and redeeming your Voucher online
To activate Costco membership you must bring the printed Costco Membership Activation Certificate email or your printed confirmation page to your local Costco location
The Costco Cash Card will be provided after presenting the Costco Membership Activation Certificate and completion of the Costco membership application for a Costco Gold Star Membership
Coupons will be mailed to the address provided by Purchaser within 15 days after redeeming Voucher online.
Costco Cash Card and Coupons are considered "Promotional Value"
Purchaser must redeem Voucher by May 10, 2014, to receive the Cash Card and Coupons in addition to the applicable Membership purchased
Purchaser must claim the Costco Cash Card and use Coupons by July 31, 2014
A Costco membership is $55 a year; Each membership includes a free household card
Costco accepts cash, checks, debit/ATM cards, EBT, Costco Cash Cards, Costco Credit Cards and American Express
Comments Off

on Get $20 off a $55 Costco Membership
---
February 3, 2014
There, I've said it.
It does not require a 12-step program, nor do I need a sponsor. Although <wait for it!> perhaps the offenders might need a program or sponsor or mentor …
How do you know if you're a grammar nerd? Well, the folks at Grammarly shared this quick assessment: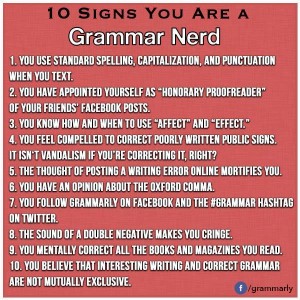 To quote George Takei, "Oh, Myyy!"
I'm ALL 10. In fact, I posted this as a Facebook status in July 2013: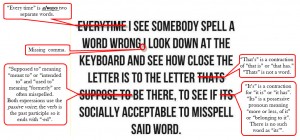 I'm sure some of you are scratching your heads, wondering what the fuss is all about. Lemme 'splain [why yes, I DID do that on purpose!] …
This is more than the usual misuse of there/their/they're, to/two/too, weather/whether, and so many more … it's an anti-grammar epidemic of stellar proportions!!
My job as a paralegal is to act as the second set of eyes for all documents that leave my attorneys' desks. There are few things as frustrating or upsetting – professionally speaking – as
seeing that your client's name, any party name, (oof!) the judge's name, or even your attorney's name is misspelled on a filed/recorded document;
realizing that a misplaced or forgotten comma has changed the intent of a document; or
noticing a missed zero, comma or other key factor in a financial document;
and the list goes on.
Sure, it's their signature on the document; but we all know what flows downhill …
Of course, there's the other side of the discussion: shoddy writing and language skills reflect poorly on you. Now, I'm not saying we all have to have Masters degrees (have I mentioned that I'm working on my 2nd one?), but I believe that in order to be taken seriously by peers, colleagues, prospective employers, educators … heck, anyone with a clue … it is imperative to use good grammar (and spelling, punctuation, capitalization, etc.) at all times.
If you follow this blog or my Facebook / Twitter posts, you know I cannot abide laziness in writing – specifically when it comes in the form of a cover letter or introduction asking me to consider the author for a job or as a submission for a grade from a classmate in my grad program. Look, I'm not talking about the errant typo – it happens to all of us. I'm referring to correspondence and documents riddled with mistakes that make me weep.
The following excerpt is from a final paper submitted in a graduate program:

Unacceptable!!! This is graduate school – real-freaking-life here. People need to take more pride in what and how they write.
End.of.discussion.
I am a Grammar Nerd and damn proud of it!!
Comments Off

on I Am a … Grammar Nerd!
---
January 9, 2014
In my former life, I did some grant writing. The first rule of writing a grant proposal is read the instructions and follow them to the letter. If the the foundation or trust asks that the proposal be typed in Comic Sans and submitted on rainbow paper, you had better make sure you have that font and plenty of rainbow paper on hand.
The same rule – 'read the instructions first' – (srsly? did you think I was joking about Comic Sans and rainbow paper?) applies to everything I do as a paralegal and grad student. My job is all about rules, regulations, and following directions; and school is, well, school –
So you may ask, why am I harping about following instructions? A recent comment on Solosez reminded me that this rule also applies to job applicants.
Humor me for a moment … no cheating!!
Read the instructions. You have 10 minutes – GO!
Find a pen and paper.

Put your name in the upper right-hand corner of the paper.

Circle the word 'name' in sentence two.

Write today's date—month-day-year—in the top left-hand corner of the paper.

Write the numbers 1 to 5, one per line.

Draw five small circles beside #1.

Put an "X" in the second and fourth circles next to #1.

Write the word 'encyclopedia' beside #3.

In the lower left hand corner of your paper, write the names of your favorite singer and your favorite group.

Put an X in the lower right-hand corner of the paper.

Draw a circle around the X you just made.

Write the name of the first president of the United States on the back of your paper, anywhere you choose.

Count the number of words in this sentence and write the answer beside #2 on your paper.

Put a square around #1 and #5.

Punch 3 small holes anywhere in the paper.

Circle every letter 'E' you have written.

Take the number of dwarfs in the Snow White story; add the number of bears in the Goldilocks story; divide by 2. Write this total in the approximate center of your paper.

Underline your name.

Just above your answer to #5, write "This is very easy."

Now that you read all of the instructions, skip all of them except the first two. If you have followed the instructions correctly, you should only have your name on the paper!
Nu? How did you do?
So, how does this apply when you answer a want ad? Remember the thread on Solosez …one of the attorneys commented that he had recently posted an ad for a part-time assistant that ad included the following language: "Resumes and cover letters in PDF only."  He received a number of replies in <wait for it>  Word.
smh
Do you see the problem?
Those applicants, regardless of their overall qualifications, will not even be considered for the position because of their inability to follow the simplest of instructions. Don't let this be you!

Comments Off

on How Well Do You Follow Instructions?
---
January 8, 2014
A qualified 'absolutely!'
I'm not talking about a Master of Paralegal Studies. My personal belief is that any Masters program that locks you into a set curriculum of individual courses in several areas of law, but fails to offer a concentration in a practice area that suits your needs (much less a single course in bankruptcy <grumble>), is nothing more than a glorified paralegal training program–and an over-priced one at that.
There have been several very lively discussions on this subject in various paralegal LinkedIn groups. Generally speaking, most employers may consider you over-qualified to be a mere paralegal; however, if you are seeking personal satisfaction, have a desire to teach, or, simply enjoy being in school, then … well, by all means get to it!
Is a Masters something a brand-new, fresh out of school, 20-something paralegal needs – no! 'Baby' paralegals need real world experience. However, for those of us who have been in the trenches for awhile, taking targeted courses in your area of specialization will make you more valuable and marketable. Any education is good for your career – remember CLEs  count too.
As for the Master's degree – very few paralegal masters programs offer industry specific training. The programs I researched were very broad in scope and offered pre-set curricula that did not include classes in my area of law.
So back to my 'qualified' response –
As an independent/freelance/virtual paralegal, I felt that a Masters degree was something that would propel the new stage of my career forward. I did not, however, go for the generic Master of Paralegal Studies that lacked even one course in bankruptcy, but earned a Master of Science of Law with concentrations in Bankruptcy & Restructuring and E-commerce. (It is not a 'paralegal' degree, but a degree from law school and my classmates were attorneys.) For me, it was the right decision and the degree will pay for itself in short order.
Speaking of which <shameless plug for my Alma Mater to follow> –
Did you know that Thomas Jefferson School of Law is the oldest, fully online, ABA  recognized law school for LL.M. / J.S.M. Degrees in the world? Check it out here: www.llmprogram.org.

Mind you, it isn't an inexpensive program – do your due diligence. Find a program that suits your needs and your career goals.
Comments Off

on Should You Pursue a Masters Degree?
---